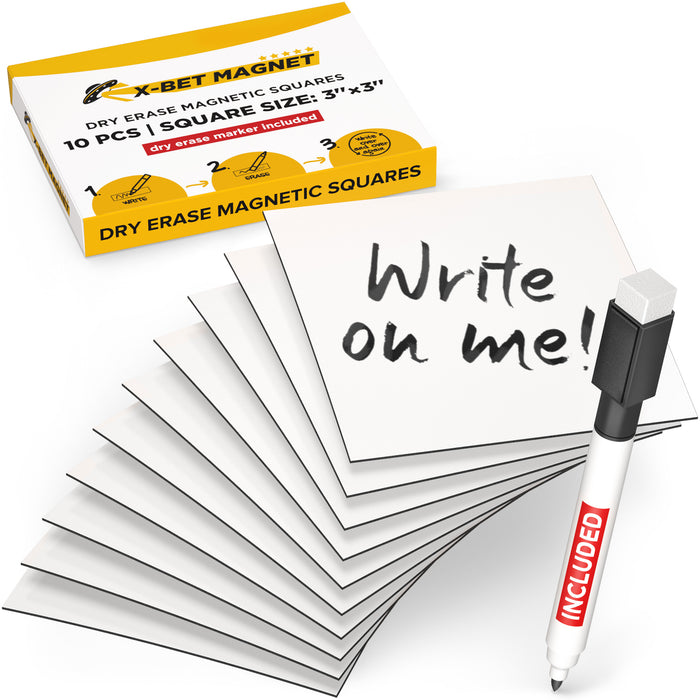 Magnetic Dry Erase Labels 3x3 - Dry Erase Magnetic Stickers to Write On - Blank Reusable Sticky Notes 10 PCs - Dry Erase Magnetic Sheets
Do you want to organise your shelves, construct some charts, or learn some new phrases in a foreign language? 
MORE
So, we came up with a solution and provide you with Flexible Dry Erase Labels!
The process of organizing your containers will become much easier. Simply sign these Dry Erase Stickers and adhere them to any magnetic surface. Labels are of optimal size 3"x3" and their thickness is 0.02". Moreover, they can be easily cut to any size if desired. These Magnetic Dry Erase Labels possess ideal magnetic power of 255 Gauss, so, please, take into consideration, that they are not intended to be used with heavy objects.

Note, that apart form 10 PCs Magnetic Labels as an EXTRA FREE GIFT you obtain Black Dry Erase Marker, to be used together with the Labels.
X-bet MAGNET Magnetic Dry Erase Labels have the following advantages:
Stay assured that your labels won`t slide down due to full magnetic backing, that guarantees sturdy application.
Our Labels do not cause any kind of damage, since their backing is really smooth and they do not leave any marks or stains. 
Just as the rest of our products, Flexible Dry Erase Stickers are produced solely with the use of non-toxic, eco-friendly materials with strict abidance to international standards of quality. 
Remember, that they are adjustable to any size and shape with the help of ordinary scissors. 
These Labels will serve you for a lifetime since they are reusable. Simply wipe off the previous writing and make a new one.
These Flexible Magnetic Stickers with time won`t lose their power, since they are resistant to demagnetization.
X-BET MAGNET IS AN OFFICAILLY REGISTERED TRADEMARK THAT THAT PROVIDES CUSTOMERS SOLELY WITH HIGHT QUALITY PRODUCTS. 
BE ASSURED IN QUALITY OF OUR PRODUCTS SINCE THEY WERE MANUFACTURED UNDER STRICT CONTROL AND WITH ABIDANCE TO ALL INTERNATIONAL STANDARDS.
HOWEVER, IN CASE SOMETHING IS WRONG WITH THE DRY ERASE LABELS, WE GUARANTEE YOU A FULL REFUND FOR YOUR ORDER.
PLEASE, CONTACT US IN CASE THERE ARE ANY SUGGESTIONS OR QUESTIONS CONCERNING PURCHASED PRODUCT.
Details
UPC: 00850045943325
Quantity: 10 PCs 
Size:  3" x 3", Thickness 0.02" (0,5 mm)
Magnetic Force: 255 Gauss
Free Bonus: Dry Erase Marker with eraser