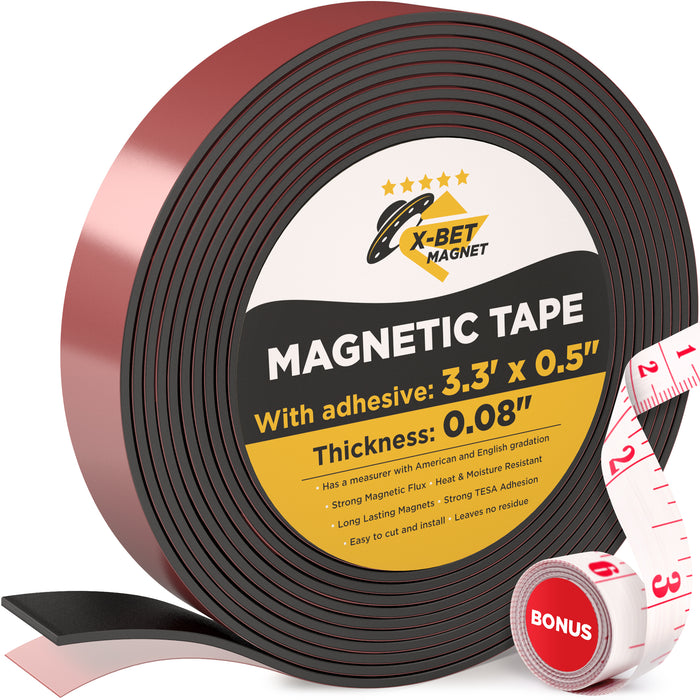 Flexible Magnetic Tape – 0.5 Inch x 3.3 Feet - Adhesive Magnetic Strip - Sticky Magnets for Fridge and Dry Erase Board
Perfect organizer for home and kitchen is here and ready to assist you?
MORE
Applicable to many surfaces and able to hold several things at a time – that is all about Magnetic Flexible Tape. Perfect flexible magnets can be cut to any size and shape, what makes it extremely multifunctional.
Thanks to adhesive backing feature magnetic tape can be applied to various surfaces with the adhesive side and to magnetic surfaces with magnetic receptive side. Remember, that this set includes FREE BONUS - Flexible Measurer!
About practical characteristics of the Magnetic Tape:
Dimensions: 3.3′ (1 m) x 0.5

"

(1,2 cm) x 0.08" (2 mm)


Magnetic power of the tape is 637 Gauss.


Materials used for the production of the Magnetic Tape adhere to all international standards including ISO 9001.
Variety of usage of Magnetic Tape due to the TESA adhesive side:
For the better adhesion recommended to be used on smooth and flat surfaces – wood, tiles, metal, plastic and so on.


Adjustable for a great amount of applications: home, science, education, labeling storage shelves, banners, boards, fridge, tools, kitchen, fun teaching tool, creative kid projects, refrigerator, office organization, magnets for crafts, shelf labels, graphics, magnets for whiteboard, knife holder, living rooms, and more.
Usage instruction:
You can easily use your ordinary scissors to cut out needed size and shape from the tape.


Peel off the adhesive side and attach it to the desired surface/ apply the magnetic strip to the magnetic surface, peel the adhesive sticker and attach the needed notes or stuff you intended to hang up.


In order to increase magnetic holding power we recommend to use several strips at a time, that way you will get better results.
Please note!
Pieces of the Magnetic Tape won`t stick to each other with non-adhesive side, side the Tape has two magnetic poles.
This Magnetic Tape is intended to be used with light objects, in case you want to hang up heavy things, please check the whole variety of our magnets.
As an ADDITIONAL GIFT you will also get a Flexible Measurer!
X-BET MAGNET IS A RELIABLE AND OFFICCIALY REGISTERED TRADEMARK , SO WE TAKE THE RESPONSIBILITY FOR OUR PRODUCT AND ARE ABLE TO ASSURE OUR CUSTOMERS IN THE QUALITY OF OUR PRODUCTS. SO WE URGE OUR TO AVOID CHEAP FAKES IN ORDER TO GET QUALITATIVE ITEMS.
IF THERE WILL BE ANY ISSUES WITH OUR PRODUCTS, PLEASE FEEL FREE TO CONTACT US AND WE WILL DEFENITELY HALP YOU OUT.
Details
UPC: 00850045943349
Quantity: 1 item 
Size: 3.3′ (1 m) x 0.5" (1,2 cm) x 0.08" (2 mm)