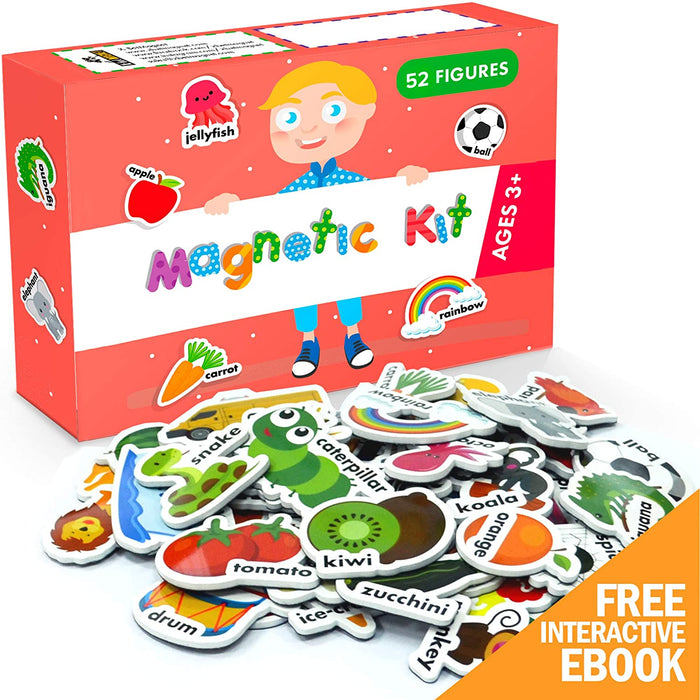 Educational Magnetic Toys - Foam Magnets for Toddlers - Refrigerator Magnets for Kids - 52 PCs UK
Is your child ready to start learning an alphabet? Don't know which set will be both educational and entertaining?
MORE
To solve this question of yours, we launched X-bet MAGNET Baby Foam Magnets. Since our top priority is your satisfaction – we've spent time and effort perfecting and improving the quality and colors that are incorporated into our children's sets. 
Thanks to the bright, funny, and colorful abc magnets your toddler can learn new words and in a playful way. 
The set includes 52 PCs foam magnets for toddlers. It will contribute improving child's memorization skills, learning skills, and finger motor skills. 
Practical dimensions:  1.6'' – 2.75'' (4 cm – 7 cm)/1.4'' – 3.6'' (3,5 cm – 9 cm). The size of thick & big objects is great for small kid's hands.
While playing with foam educational magnets it is possible to expand a toddler's imagination while learning. You can make up stories using EVA Foam figures that will help them better memorize words. Involve your toddler into the learning process while using cute magnetic figures and letters.
All of our Children's Foam Sets meet all American Toy Safety Standards. They are cruelty-free, eco-friendly, and paraben-free. While making our Children's Foam sets, we only incorporate premium EVA Foam materials that do not cause any harm to health.
In addition to the set, we've created an e-book in which you may find a variety of exciting games that will assist you in a better learning process.
It is FREE and already included in your box.  All you need is to scan a QR code with your phone and it will take you straight to the e-book.
If you do not have a magnetic board at home, you can simply use a refrigerator in the kitchen. It can be explained in a simple way: the fridge is for food, but now toddlers can use it for learning. Diversify the learning process!
Doing such simple things you help your kid with preschool learning. The kids play set is a great assistant for tutors, kindergarten teachers, babysitters, and homeschoolers. 
Rest assured in the quality of the educational toy due to the premium materials – leaves a pleasant feeling of softness and tactile sensation; is flawless for the tiny baby's hands.
Bright colors and fun designs will definitely attract the attention of your children!
| | | | |
| --- | --- | --- | --- |
| | Full Magnetic Backing | | Easy to Organise and Store |
Fields of usage:
Kids playset may always be easily applied to any metal surfaces – fridge, refrigerator, whiteboard, blackboard, other magnetic boards, etc.  Use them as magnets for kids, animal magnets, alphabet magnets, baby fridge magnets, refrigerator toddler magnets, educational toys, kids magnets, letter magnets, word magnets, alphabet magnets for the fridge.
Don't you know what to buy as a gift for your child, niece, or nephew that are under 5-6 years old? Foam kids magnetic figures will help you out as they are a great idea for a gift!
PLEASE, NOTE:
This magnetic set does not include alphabet letters!
X-bet MAGNET IS A REGISTERED TRADEMARK – CHOOSE QUALITY TODDLER MAGNETS FOR REFRIGERATOR AND AVOID CHEAP FAKES.
REST ASSURED IN QUALITY OF THE ALPHABET MAGNETS FOR TODDLERS YOU ARE USING. WE GIVE YOU A 100% GUARANTEE THAT IF ANYTHING IS WRONG – YOU WILL GET YOUR MONEY BACK!
PLEASE, FEEL FREE TO CONTACT US IF YOU HAVE ANY QUESTIONS OR SUGGESTIONS RELATED TO THIS PRODUCT.
Details
Quantity: 52 PCs
Size:  1.6'' – 2.75'' (4 cm – 7 cm)/1.4'' – 3.6'' (3,5 cm – 9 cm)
Bonus: e-book with a variety of games 
UPC 00850045943844 
Video