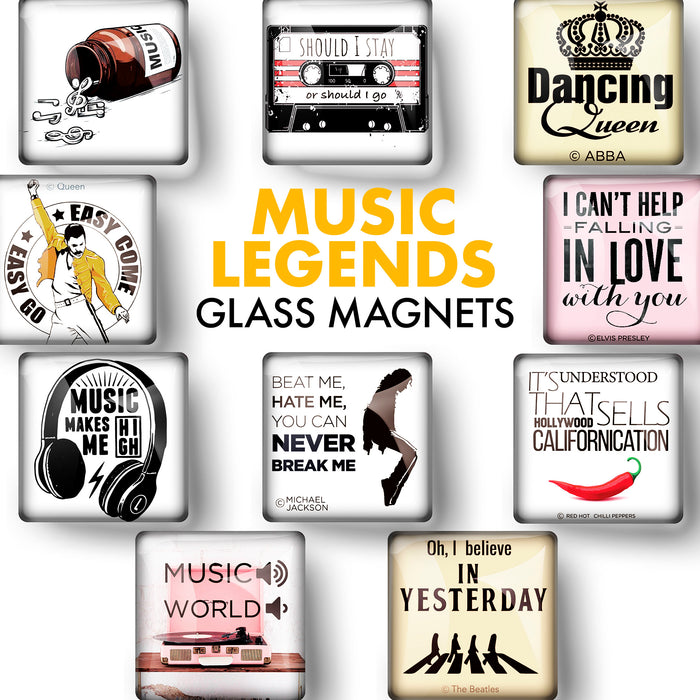 Music Legends - Cute Magnets for Fridge Decorative – Glass Decorative Refrigerator Magnets – Fridge Magnets for Whiteboard UK
Music Legends just on you fridge! 
Additional Description
Michael Jackson , Queen, Elvis Presley - all this is about our new Music Legends Glass Decorative Magnets Set! Great heritage left by the most prominent figures in the history of music depicted on our magnets. Have a look and enjoy the nostalgia!
There are 10 PCs of glass magnets for fridge and FREE GIFT just for you – 10 PCs  Stickers! Use them  to decorate your working space, add to your notebooks or even laptop.
By purchasing this set you get provided with: 
Confidence in  perfect quality of transparent  glass decorative magnets for fridge since while manufacturing them solely premium materials are used. 
Decorative magnets that abide to all the international standards of quality. 
Magnets of practical size: 1.28'' x 1.28'' x 0.35'' (3,2 cm x 3,2 cm x 9 mm)
Quite durable magnets that won`t get weaker while using. 
Intact surface as our magnets do not cause any damage or marks.   
A great tool for holding lightweight objects: holiday pics, maps, smallnotes, important documents,  family pictures, posters, artworks done by your children, recipes planned to try out and much more.

How can be used:

Ideal for both  craft and DIY projects, Office space decoration, Kitchen decoration and organization and for education purposes.
Those attractive magnets will be great assistants in home decorating, holding  not heavy objects to the white boards, also to the refrigerator, appropriate cabinets. As well as in classrooms, offices or simply your working space.
| | | | |
| --- | --- | --- | --- |
| Glass Surface | High-Strength Magnets | Full Magnetic Backing | Serves as a Perfect Gift |
You just can`t  stay indifferent to those magnets as besides for the perfect magnets you also get pretty-designed packaging! 

You can check out the whole variety of designs in our store: Glass Inspirational Magnets, Cute Butterfly Decorative Magnets, Fridge Magnets Funny Dogs, Dinosaur Magnets for Fridge, Planets Magnets for Fridge, Funny Pinup Magnets, Fridge Magnets Cute Cities, Decorative Magnets for Fridge Dogs, Business Quotes Magnets and other Glass Magnets.

NOTE THAT X-bet MAGNET IS A RELIABLE BRAND AND AN OFFICIALLY REGISTERED TRADEMARK.

WE  PROVIDE YOU WITH A GUARANTEE OF A FULL REFUND FOR PURCHASED ITEMS THERE ARE ANY ISSUES ARISING WITH THE PRODUCT!
DEAR CUSTOMER, WE ARE OPEN FOR YOUR QUESTIONS.


Details
UPC 00850045943387
Quantity: 10 PCs
Size:  1.28'' x 1.28'' x 0.35'' (3,2 cm x 3,2 cm x 9 mm)
Free Bonus: 10 PCs Stickers
Video