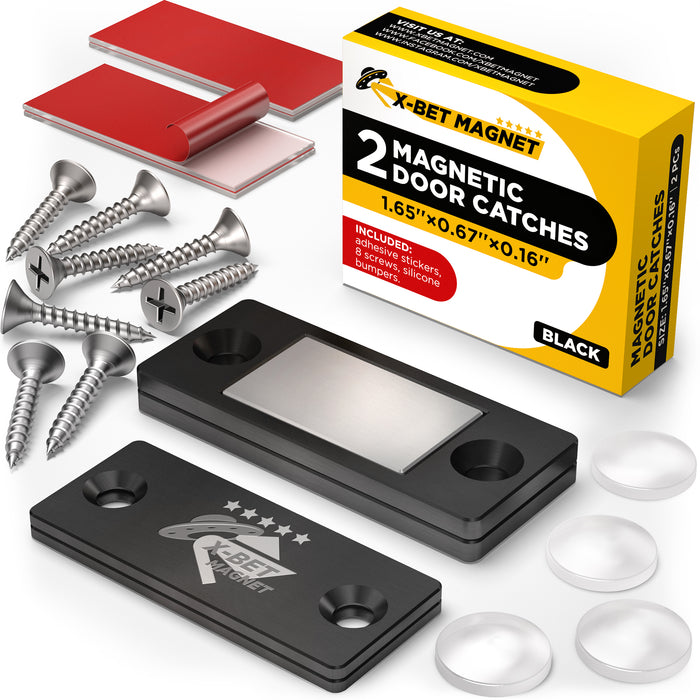 Black Magnetic Door Catch Black - Thin Cabinet Door Magnets Heavy Duty 2 PCs - Thin Black Drawer Magnets - Magnets for Cabinet Doors
Black Magnetic Catchers will be just perfect solution for improving your household together with X-bet MAGNET!
MORE
Tired of noises all around the house of slamming doors, splits in walls and damaged interior. We totally understand you and came up with a solution for you.
 Our heavy-duty Black Magnetic Door Stoppers have an aesthetic role as well as practical qualities. They'll not only be functional, but they'll also look great at your home! The measurements of the Black Door Stoppers are quite practical: 1.65" x 0.67" x 0.16". Each Door Stopper is made of highly strong and durable material - stainless steel. As an EXTRA FREE BONUS, we included 4 PCS adhesive stickers, 8 mounting screws, and 4 silicone bumper pads in the package. Door Stoppers are already assembled and ready to use.
The neodymium magnet inserted in our heavy-duty door stopper will certainly catch door or cabinet, thus preventing it from crashing or bashing against walls, keeping it open for proper airflow in case of need, and simply keep it that way when it is so desired.
This helpful magnetic door holder's shape and size won't get in the way of your regular cleaning routine and is tough to trip over. The door stopper is robust and durable, and it goes with almost any interior design.
AS AN EXTRA FREE BONUS we added to the package every detail needed for the installation:  4 PCS adhesive stickers, 8 mounting screws, and 4 silicone bumper pads apart from strong magnetic door catcher.
There are two easy ways to install a wall door stopper. Place the door stops in the following order to suit your needs:
1) The magnet door holder with no holes is quickly and easily attached using double-sided adhesive stickers, that are included in the package.
2) The screws, that also go as a FREE BONUS, are used to secure the door stopper to the floor for a more long-lasting result.
WIDE RANGE APPLICATION: Due to different installation options, our doorstopper can be applied to a wide range of surfaces, including wood, tile, marble, glass, and more. As a result, you can use it in your bedroom, living room, kitchen, bathroom, at work, and so on.
X-BET MAGNET ALWAYS CARES ABOUT ITS CUSTOMERS AND WHILE MANUFACTURING USES ONLY ENVIRONMENTALLY FRIENDLY MATERIALS, AND ALL THE PRODUCTS ARE MADE IN COMPLIANCE TO INTEARNATIONAL STANDARDS OF QUALITY.  
YOU MIGHT STAY ASSURED IN PRODUCTS YOU PURCHASE. FURTHERMORE, IF THERE ARE ANY ISSUE OR YOU DON`T LIKE THE PRODUCT YOU GOT WE GIVE YOU 100% GUARANTEE OF FULL MONEY PAYBACK.
PLEASE, FEEL ABSOLUTELY FREE TO CONTACT US IF YOU HAVE ANY QUESTIONS, SUGGESTIONS OR REQUIRE ANY ADDITIONAL INFORMATION.
Details
Quantity: 2 PCs
Size: 1.65" x 0.67" x 0.16"
Bonus: 4 adhesive stickers, 8 mounting screws, and 4 silicone bumper pads