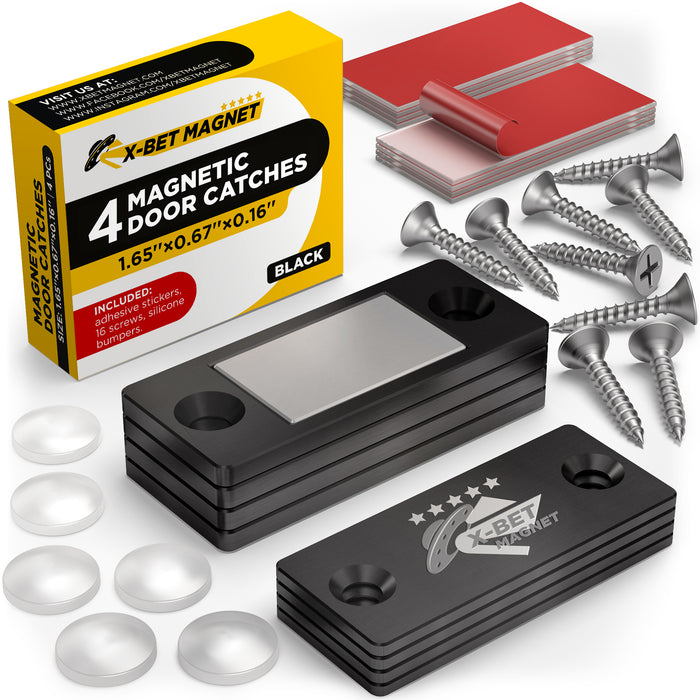 Magnetic Cabinet Door Catch Black - Thin Black Cabinet Magnets 4 PCs - Magnetic Door Latch - Drawer Magnets for Cabinet Doors
Together with X-bet MAGNET, Black Magnetic Catchers will be the ideal alternative for beautifying your home!
MORE
Tired of slamming doors, wall splits, and a damaged interior all around the house? We completely understand your situation and have devised a solution for you.
Our heavy-duty Black Magnetic Door Stoppers serve both an aesthetic and a functional purpose. They'll not only serve a practical purpose, but they'll also look fantastic in your home! The Black Door Stoppers are fairly practical in size, measuring 1.65" x 0.67" x 0.16". Each Door Stopper is composed of stainless steel, which is a very strong and long-lasting material. We included 8 PCS adhesive stickers, 16 mounting screws, and 8 silicone bumper pads in the packaging as an ADDITIONAL FREE BONUS. The door stoppers have been assembled and are ready to use.
Our heavy-duty door stopper's neodymium magnet will undoubtedly catch the door or cabinet, stopping it from crashing or slamming into walls, keeping it open for proper airflow when needed, and just maintaining it that way when preferred.
Due to the shape and size we constructed for this useful magnetic door holder, it won't get in the way of your usual cleaning routine and won`t cause any difficulties. The silver door stopper is sturdy and long-lasting, and it complements practically any decor.
AS AN ADDITIONAL FREE BONUS we added to the package everything every detail needed for the installation:  8 PCS adhesive stickers, 16 mounting screws, and 8 silicone bumper pads apart from strong magnetic door catcher.
A wall door stopper can be installed in two ways. To suit your needs, arrange the door stops in possible ways:
1) The double-sided adhesive stickers supplied in the packaging are used to swiftly and conveniently connect the magnet door holder with no holes. Just peel and stick your catcher to the appropriate location.
2) The screws, which are also included as a FREE BONUS, are intended to secure the door stopper to the floor for a more durable effect.
APPLICATION RANGE: Our doorstopper may be used on a variety of surfaces, including wood, tile, marble, glass, and more, thanks to several installation choices. As a result, you can put it in your bedroom, living room, kitchen, bathroom, office, and other places.
X-BET MAGNET ALWAYS CARES ABOUT ITS CUSTOMERS AND THINKS THROUGH EVERY DETAILWHILE MANUFACTURING. ALL PRODUCTS ARE MADE IN ACCORDANCE WITH INTERNATIONAL QUALITY STANDARDS AND OUT OF ECO-FRIENDLY MATERIALS.
STAY ASSURED IN QUALITY OF PRODUCTS YOU PURCHASE. FURTHERMORE, WE GIVE YOU 100% GUARANTEE OF FULL MONEY PAYBACK IF SOMETHING GOES WRONG WITH THE PRODUCT.
IF YOU HAVE ANY QUESTIONS, SUGGESTIONS, OR NEED ANY ADDITIONAL INFORMATION, PLEASE DO NOT HESITATE TO CONTACT US.
Details
Quantity: 4 PCs
Size: 1.65" x 0.67" x 0.16"
Bonus: 8 PCS adhesive stickers, 16 mounting screws, and 8 silicone bumper pads