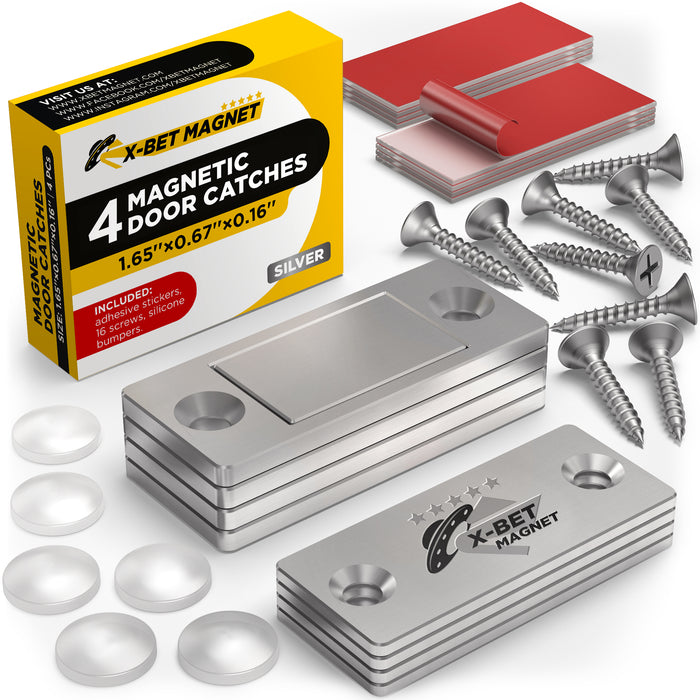 Magnetic Door Catch Silver - Thin Cabinet Door Magnets 4 PCs - Magnetic Door Latch - Cabinet Magnetic Catch - Drawer Magnets for Cabinet Door
Adding X-bet MAGNET Silver Magnetic Catchers to your home will be a fantastic way to enhance and embellish it!
MORE
Are you fed up with slamming doors, fractures in the walls, and a ruined interior in your home? We thoroughly get your situation and have designed the ideal answer.
Our heavy-duty Silver Magnetic Door Catches are are just perfect both  for functional and decorative purposes. The dimensions of our Silver Door Stopper measure 1.65" x 0.67" x 0.16", which are just optimal.
We picked stainless steel for our Door Catchers since it is a extremely sturdy and long-lasting material. In each package, we included 8 PCS adhesive stickers, 16 mounting screws, and 8 silicone bumper cushions as an ADDITIONAL FREE BONUS. Everything needed for installation of the door stopper is already included in the package, so you won't have to buy additional details.
The neodymium magnet inserted in our heavy-duty door stopper will catch the door or cabinet, preventing it from crashing or slamming into walls, holding it open for appropriate airflow when needed, and simply keeping it open when preferred.
Because of the shape and size of Magnetic Door Catchers, this useful magnetic door holder will not interfere with your regular cleaning routine or cause any other issues. The silver door stopper is durable and adaptable, fitting into almost any interior.
As an ADDITIONAL FREE BONUS, we included all information needed for installation in the package: There are 8 PCs adhesive stickers, 16 mounting screws, and 8 silicone bumper pads included in addition to the powerful magnetic door catcher.
There are two ways to install a wall door stopper:
1) The magnet door catcher can be quickly and easily installed using the double-sided adhesive stickers included in the packing. Simply peel off the backing of the sticker, apply it to the catcher and place the catcher to the needed location.  
2) For a more durable effect in securing the door stopper to the floor, it is recommended to use screws, that are included as a FREE BONUS.
Thanks to a range of mounting options, our door stopper may be used on a variety of surfaces, including wood, tile, marble, glass, and more. As a result, it may be used in many different places, including your bedroom, living room, kitchen, bathroom, office, and so on.
X-BET MAGNET IS CONCERNED ABOUT ITS CUSTOMERS AND PRODUCTION DETAILS. ALL PRODUCTS ARE MADE WITH ECO-FRIENDLY MATERIALS AND TO INTERNATIONAL QUALITY STANDARDS.
REMAIN CONFIDENT IN THE QUALITY OF THE PRODUCTS YOU BUY. ADDITIONALLY, IF SOMETHING GOES WITH THE PRODUCT, WE GUARANTEE A FULL REFUND.
IF YOU HAVE ANY QUESTIONS, SUGGESTIONS, OR NEED ANY ADDITIONAL INFORMATION, PLEASE DO NOT HESITATE TO CONTACT US. WE ARE ALWAYS WILLING TO HELP YOU.
Details
Quantity: 4 PCs
Size: 1.65" x 0.67" x 0.16"
Bonus: 8 PCs adhesive stickers, 16 mounting screws, and 8 silicone bumper pads