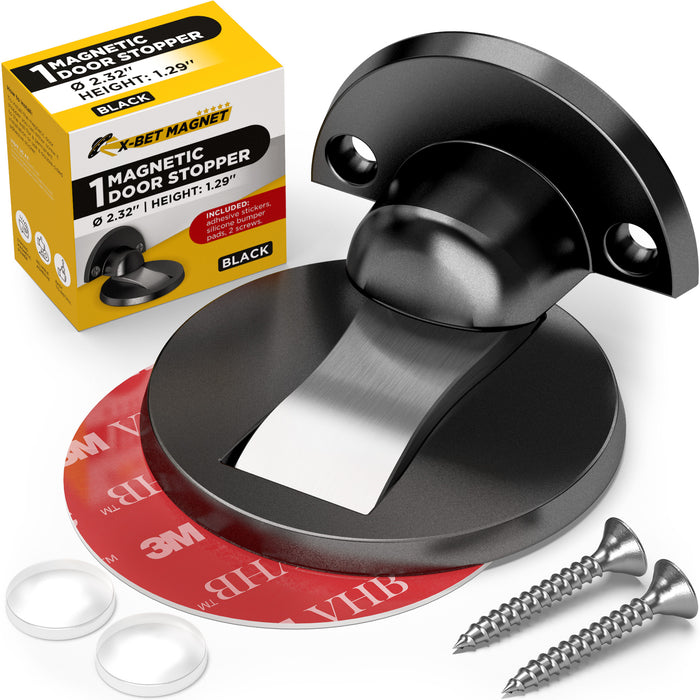 Magnetic Door Stop Black - Heavy Duty Door Stopper Self Adhesive 1 PCs - Magnetic Door Stopper Wall Protector Floor Mount - Magnetic Door Catch Door Holder Magnetic Doorstop
Sick of doors bumping into the wall? We are! So we would like to present our brand new Black Door Stoppers, that will prevent slamming!

MORE
Besides for practical use they will also greatly compliment your interior!
In the set you get 1 Black Door Stopper of practical size: 2.32" x 1.29". Each Door Stopper is made out of stainless steel. As an EXTRA FREE BONUS we also added to the set 2 PCs adhesive stickers, 4 mounting screws and 5 silicone bumper pads, Door Stoppers are completely ready for installation.
The advantages of X-bet MAGNET Magnetic Door Stoppers:
Strong Neodymium Magnet, that will definitely prevent your doors from slamming, bumping and will easily catch your door when you want to keep it open.


Since Stopper is made out of stainless steel, it will serve you for a life-time. Our Door Stoppers are resistant to corrosion and demagnetization.


Easy installation, that will take less, than 2 minutes (all the needed installation accessories are included in the set).


Our Magnetic Door Stopper is applicable to various surfaces: wood, ceramic tile, marble, glass, etc.


Thanks to thoroughly designed shape of magnetic door catcher, it won`t cause any problems with cleaning around nor cause any other inconveniences.


Modern design of heavy duty door stoppers gives you an opportunity to implement it in different designs, strong black magnetic door stopper won`t catch too much attention, but perfectly serve as practical tool for improving your home space.


Door stopps for bottom of door are widely used as door catches and holders, will greatly protect your walls and knobs from damage and doors from slamming.
Two ways of installation:
In case you don`t want to drill and make holes, you shall choose to install strong magnetic door stopper with adhesive stickers. All you need is peel and stick it to the door stopper and then apply on the floor.
There is another way to permanently install door catches – with the use of mounting screws.
Since this Magnetic Door Stopper is extremely multifunctional, they are widely applied on different surfaces in classroom, bedroom, living room, kitchen, bathroom, at your home and office space.
X-BET MAGNET IS RELIABLE SELLER, THAT SUPPLIES ONLY WITH HIGH-QUALITY PRODUCTS, THAT HAVE GONE THROUGH NUMBER OF DIFFERENT TEST, EXPERIMENTS AND APPROBATIONS.
ALL THE MATERIALS AND PROCEDURE USED FOR MANUFACTURING OF OUR PRODUCTS ARE ADOPTED TO THE INTERANTIONAL STANDARDS. FURTHERMORE, WE PROVIDE YOU WITH A 100% GUARANTEE OF REFUND IF SOMETHING IS GOES WRONG WITH OUR PRODUCTS, YOU PURCHASED. 
PLEASE, REMEMBER NOT TO HESIATE AND CONTACT US FOR ANY CLARIFICATION OR QUESTIONS RELATING OUR PRODUCTS.
Details
Size: 2.32" x 1.29"
Bonus: 2 PCs adhesive stickers, 4 mounting screws and 5 silicone bumper pads