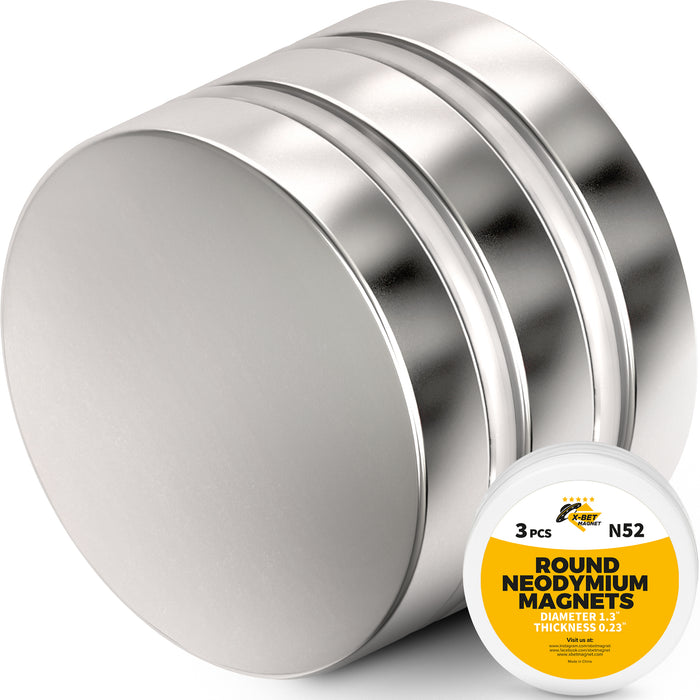 Strong Neodymium Disc Magnets 3 PCs – Rare Earth Round Magnets 33 mm (1.3 inch) – Heavy Duty Neodymium N52 Magnets
Looking for some stronger alternatives for ceramic and flexible magnets?

MORE

Strong Neodymium Disc Magnets that can be used over and over again will perfectly serve for all your needs.

Since we want to serve you the best products a tremendous amount researches was conducted in order to produce our new Super Strong Neodymium Disc Magnets. Besides for the the magnets itself we have added and ADDITIONAL FREE BONUS: 3M stickers, so you may also stick those magnets to non magnetic surfaces. Despite of small and optimal sizes of the Rare Earth Round Magnets that measure for about 1.3" (33mm) diameter x 0.23" (6mm), they have extremely high holding power around  77 LB (35 kilograms) that shall be more than enough both for house holding and industrial usage.

Why X-bet MAGNET Heavy Duty Neodymium N52 Magnets:
You get 3 PCs Small Powerful Circle Magnets with FREE GIFT 3M Stickers, that increases the variety of usage of this product.
All our neodymium magnets are epoxy coated.
These Strong Neodymium Disc Magnets are highly resistant to any kind of corrosion, oxidation or even thermal stress.
You may stay assured that the Heavy Duty Neodymium N52 Magnets won't lose their magnetic power with time so they can be used over and over again and in case of appropriate usage serve you for a lifetime. 

Like any other our products, these Strong Neodymium Disc Magnets adhere to the necessary international strands, including ISO 9001.
Strong Neodymium Disc Magnets can be easily fitted for Kitchen, Office, Educations and Classroom usage. As they are just perfect for holding, organising, stooging and keeping you space tidy. Also note that they are useful for Industrial usage, Craft, Art, DIY and Hobby creations. 

Keep in mind that  are extremely powerful and brittle at the same time, so, please be cautious and use them correctly in order not to hurt yourself and damage the magnets themselves. 

CONSIDER THAT X-bet MAGNET IS AN OFFICIALLY REGISTERED TRADEMARK  SO WE RECOMMEND YOU TO AVOID CHEAP FAKES TO OBTAIN ONLY WELL MADE PRODUCTS .
STAY ASSURED IN QUALITY OF HEAVY DUTY MAGNETIC HOOKS. WE GIVE YOU A GUARANTEE OF FULL AMOUNT REFUND IN CASE THERE ARE ANY ISSUES WITH THE PRODUCT! REMEMBER TO CONTACT US WITH ANY ISSUES YOU MAY NEED ASSISTANCE WITH.
Details
Quantity: 3 PCs
Size: 1.3" (33mm) diameter x 0.23" (6mm) 
Holding Force : 77 LB (35 kilograms)
FREE BONUS: 3M stickers