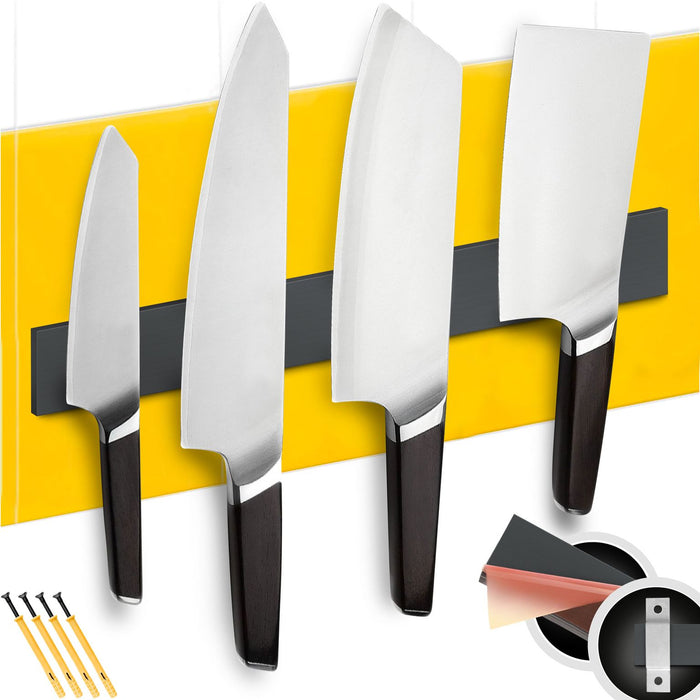 Magnetic Knife Strip - Knife Magnetic Strip with Adhesive Backing - Magnetic Knife Holder - Knife Rack - Kitchen Utensil
Have you ever thought about the ideal kitchen organizer? 
X-bet MAGNET has designed a perfect solution – Knife Magnetic Strips with Adhesive Backing!
MORE
The set of adhesive magnetic tape includes 1 item of the adhesive magnetic strip.
With its perfect dimensions: 1.5'' x 0.16'' x 12'' (3,8 cm x 4 mm x 30,5 cm)
Rest assured in the premium quality of X-bet MAGNET kitchen knife magnetic tape strips which comply with ISO 9001 standards.
Magnetic strips with adhesive backing for wall have 1250 Gauss (120g/cm2). Do not worry – 3m Magnetic Rolls will not leave any marks and stains on your wall.
Recommended application:
Clean the surface where you wish to apply the adhesive strips with some alcohol and wait until it's dry. The surface should be not dirty, sticky, or dusty.

Attach magnetic strips to your desired surface with the fasteners and screws that are in the set. The 3m magnetic tool holder strip will not lose its power over time.
Magnetic Adhesive Tape is your personal assistant in different fields: home, kitchen, school, garage, office, DIY-projects, etc.
You can use magnetic tool strip for all sorts of purposes: as magnetic knife holder, magnetic strip for tools, magnetic tool holder, magnetic knife strip, magnetic key holder for wall, spice jar organizer. Help your children with the kids' projects, help your kitchen become more well-arranged, organize garage space, and more. Also, you can use it as fridge magnets, magnetic tape for garage, magnets for refrigerator, kitchen utensil holder, magnetic tool holder strip, refrigerator magnets, whiteboard magnets, magnetic screw holder, and more.    
Do not waste your time and organize your home space.
Use Two Adhesive Magnetic Strips alongside, if you see that one strip can not hold your item. In this case, using 2 knife magnet strips you can get better and stronger holding result.
X-bet MAGNET IS A REGISTERED TRADEMARK – CHOOSE QUALITY MAGNETIC KNIFE BLOCK AND AVOID CHEAP FAKES.
REST ASSURED IN QUALITY OF THE MAGNETIC TAPE ROLL YOU ARE USING. WE GIVE YOU A 100% GUARANTEE THAT IF ANYTHING IS WRONG – YOU WILL GET YOUR MONEY BACK!
PLEASE, FEEL FREE TO CONTACT US IF YOU HAVE ANY QUESTIONS OR SUGGESTIONS RELATED TO THIS PRODUCT.
Details: 
Quantity: 1 item
Size:  1.5'' x 0.16'' x 12'' (3,8 cm x 4 mm x 30,5 cm)
Magnetic Force: 1250 Gauss (120g/cm2)
UPC 850045943509