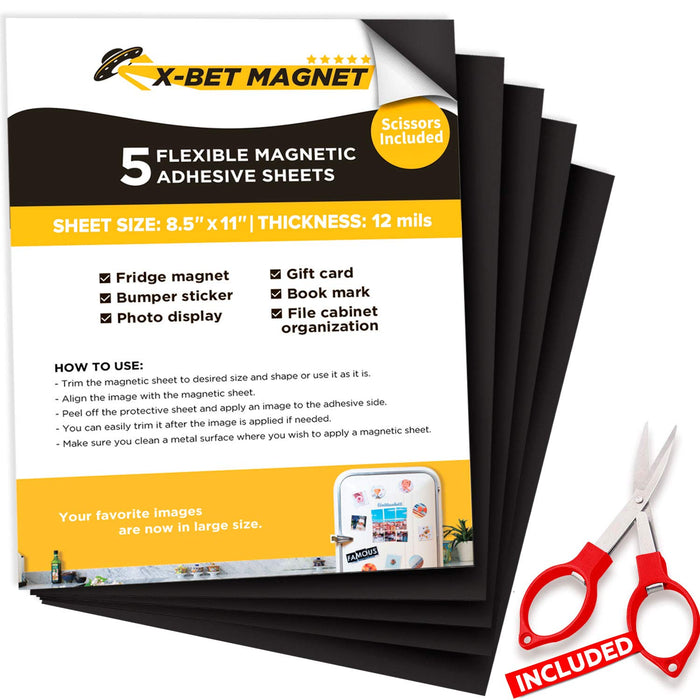 Adhesive Magnetic Sheets - Flexible Magnet Sheets - Sticky Magnetic Paper for Photo - Magnet Stickers - 5 PCs
Ever dreamed of making your own family fridge magnet?
We've got you covered with X-bet MAGNET flexible adhesive magnetic sheets.
MORE
Practical Flexible Magnetic Sheets with Adhesive Backing Dimensions: 8.5" (21 cm) x 11" (28 cm) x 12 mils (0,3 mm).  Magnetic Tape has 250 Gauss of Magnetic Strength and will not lose its power over time.
Rest assured in the premium quality of X-bet MAGNET strong magnet sheets which comply with ISO 9001 standards.
Recommended application:
Trim the adhesive magnetic sheets to the desired size (if needed).
Peel off the first layer of sticky magnetic sheets – protective film– and adhere an image to the adhesive side.
Attach the chosen image to the flexible magnetic adhesive sheets.
Use magnetic sheets with adhesive backing in various fields you need: Kitchen, Office Supplies, Garage, Presentation Supplies, Home Decoration, DIY, Craft projects, Classroom, Homeschooling.
You can use flat magnets with adhesive for all sorts of purposes: photo magnets, magnetic pages, magnetic photo frames, refrigerator magnets, sticky fridge magnets, decoration fridge magnets kit, stick on magnets with adhesive, magnets for fridge, sticky magnetic paper for photo, magnetic picture clips, adhesive magnets, flexible magnets, small craft magnets, magnetized dots, magnetic picture clips, picture magnet sheets, kid projects, DIY projects, crafts, magnetic squares, and more.
Make your own family photo magnets with your favorite views, loved artist, friends, and any inspirational pics you've found on Pinterest. Expand your imagination and use them as your heart wishes.
As a FREE BONUS to this product – Scissors are included in X-bet MAGNET set!
X-bet MAGNET IS A REGISTERED TRADEMARK – CHOOSE QUALITY STICKY MAGNETIC PAPER AND AVOID CHEAP FAKES.
REST ASSURED IN QUALITY OF THE MAGNET STRIPS YOU ARE USING. WE GIVE YOU A 100% GUARANTEE THAT IF ANYTHING IS WRONG – YOU WILL GET YOUR MONEY BACK!
PLEASE, FEEL FREE TO CONTACT US IF YOU HAVE ANY QUESTIONS OR SUGGESTIONS RELATED TO THIS PRODUCT.
Details
Quantity: 5 PCs
Size:  8.5" (21 cm) x 11" (28 cm) x 12 mils (0,3 mm).
Magnetic Force: 350 Gauss
UPC 850045943516
Video