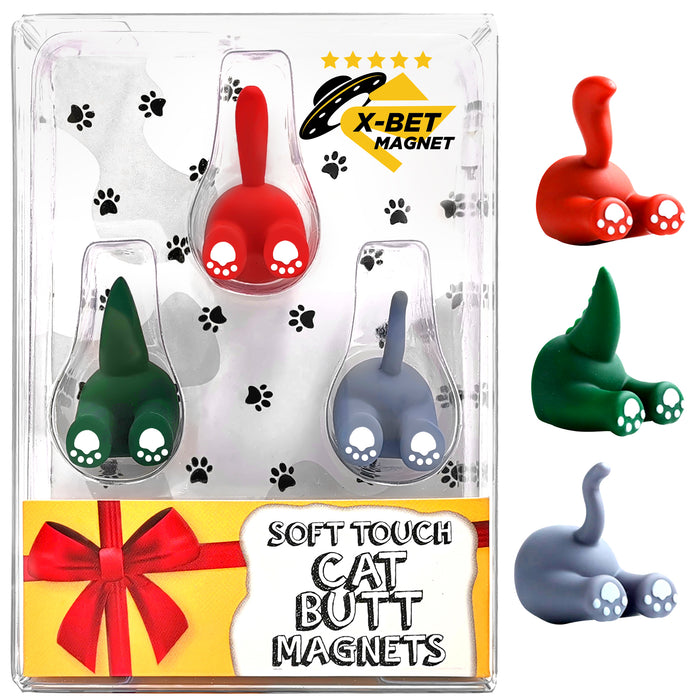 Cat Butt Magnets for Refrigerator – Funny Fridge Magnets – Cute Cat Lover Gifts for Women and Men
Looking for fun and cute at the same time decorative magnets that would also perfectly serve as a gift?
MORE

We

thought

of

your

preferences

and

launched

attractive

and

effective

decorative

magnets

.
Funny
Cat
Butt
set
provides
you
with
:
Refrigerator

funny

magnets

set

that

includes

3

PCs

differently

designed

cute

cat

butt

magnets

.
Practically

dimensioned

magnets

for

fridge

that

are

about

1

.

47

-

1

.

28

"

x

0

.

78

"

x

0

.

39.
Cats

butt

that

holds

about

85

grams

each.
Set of magnets of cute design that perfectly serves for decoration.
Durable magnets made of quite tactically soft resin.
Non damaging Fridge magnets that firmly apply and do not leave any stains.
Resistant to demagnetization Decorative Magnets.
Applicable to any magnetic surface Cat butt magnets.
Remember that all the X-bet magnets adhere to all the necessary standards and the 9001 ISO requirements.

Fields of Usage :
Decoration for your office space, kitchen, fridge, whiteboards, classroom. Cute vivid cat butt magnets are there to fix your notes, postcards, needed recipes and documents, reminders for you and the whole family, children's works and pictures, new words to learn in a foreign language, family pictures from holidays. They perfectly work with lockers, fridges, cabinets and any magnetic surfaces.

NOTE THAT X-bet MAGNET IS AN OFFICIALLY REGISTERED TRADEMARK — GIVE PREFERENCES TO VERIFIED MANUFACTURER AND REFRAIN LOW-COST FAKES.
STAY ASSURED THAT YOU GET A 100% PAY BACK IF SOMETHING GOES WRONG WITH THE PRODUCT!
PLEASE, DON'T HESITATE AND CONTACT US FOR ANY ISSUES THAT MAY ARISE.
Details
Quantity: 3 PCs
Size:  1.47-1.28'' x 0.78'' x 0.39''