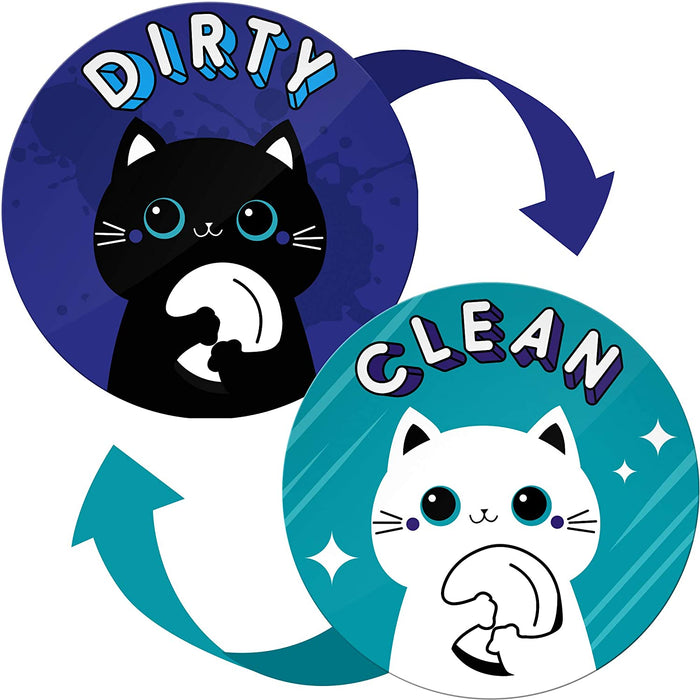 Clean Dirty Dishwasher Magnet Funny Cat - Dishwasher Magnet Clean Dirty Funny Flip - Kitchen Gift
There has always been a question in every household: Is my dishwasher clean or dirty now? Should I unload it?
MORE
Sounds familiar? We have a solution for you!
X-bet MAGNET designed dirty clean dishwasher magnets! With its reversible indicator clean/dirty dishwasher magnet is so helpful as you can finally stop worrying about everyday routine! Cool dishwasher magnet clean dirty sign can be used to show not only the condition of your dishwasher, but also can be a great decoration in your kitchen.
Reversible dishwasher magnet will help your children to stay tidy, attentive and self-sustaining.
Practical round magnets dimensions – 2 Inch (5 cm) x 0.08 Inch (2 mm)
Made with high-quality material - clean/dirty dishwasher magnet will not scratch, stain, or leave residue on your dishwasher. Magnetic dishwasher consists of premium PVC, soft durable magnet and printed paper.
Recommended application:
On both sides, you will see the inscriptions - clean and dirty. Accordingly, when your dishes are clean and it's time to take them out, use a magnet with the inscription "CLEAN". If you don't have time to take out all the clean dishes now, you can do it later. If the dishes are dirty and need to be washed, use the "DIRTY" side.
Dishwasher magnet round can be applied to any magnetic surfaces.
Fields of usage:   
Use fridge dishwasher magnet as a gift for wife, gifts for husband, gifts for mom, housewarming gifts, cheap gifts, husband birthday gifts from wife, kitchen magnet, under 10 dollars gifts, 2021 christmas gifts, must have practical gifts, educational gifts, and more.
Unique and practical gift in cool and funny packing – ideal for Mother's Day, Christmas, New-Year, Wedding, New Homes.
As a FREE BONUS to this set – Adhesive Metal Magnetic Plate – opportunity to use round magnet on the non-metal surfaces.
X-bet MAGNET IS A REGISTERED TRADEMARK – CHOOSE QUALITY CLEAN DISHES DIRTY DISHES MAGNET FLIP AND AVOID CHEAP FAKES.
REST ASSURED IN QUALITY OF THE DISHWASHER MAGNET DIRTY CLEAN YOU ARE USING. WE GIVE YOU A 100% GUARANTEE THAT IF ANYTHING IS WRONG – YOU WILL GET YOUR MONEY BACK!
PLEASE, FEEL FREE TO CONTACT US IF YOU HAVE ANY QUESTIONS OR SUGGESTIONS RELATED TO THIS PRODUCT.
Details
Quantity: 1 item
Size:  2'' (2,5 cm) x 0.08'' (2 mm)
Free Bonus: Adhesive Metal Magnetic Plate