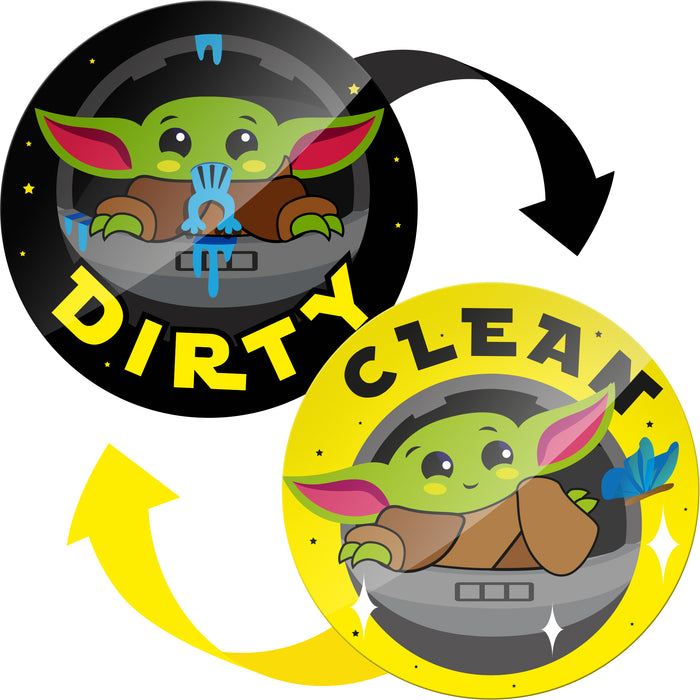 Dishwasher Magnet Clean Dirty Sign - Clean Dirty Magnet for Dishwasher Baby Yoda - Kitchen Dish Washer Magnet
Each household has always had the same question: Is my dishwasher clean or dirty right now? Is it necessary for me to empty it or I can still load dirty dishes? 
MORE
Does this ring a bell? We've come up with a solution for you! X-bet MAGNET created dishwasher magnets that have both "Dirty"and "Clean" sides!
Now you will always know for sure whether your dishes are ready to go or they are still dirty and need to be cleaned due to the reversible "Dirty" and "Clean" sides.


Besides for practical purposes such as showing the state of your dishes with the indicator "Dirty" and "Clean", they greatly serve for decorating your home space and kitchen.
All the members of your family will be able to immediately find out the conditions of your dishes. X-bet MAGNET thinks through every detail, so we have decided to add Magnetic Metal Plate as an EXTRA FREE BONUS, so you will be able to attach the Dishwasher even to non-magnetic surfaces.  
Dishwasher has such dimensions, that perfectly work out for primarily purposes 2 Inch (5 cm) x 0.08 Inch (2 mm)
The "Clean"/"Dirty" dishwasher magnet is composed of premium materials that will in no way harm, discolor, or leave any stains on your dishwasher. The magnetic dishwasher itself is made up of high-quality PVC, strong magnet, and printed paper.
Recommended instruction:
There are two inscription "Clean" and "Dirty". So, when it`s time to put your dishes away and they are already cleaned, use the magnet with the word "Clean" on it. If there is a need to clean up your dishes, apply the "Dirty" side.


Due to the additional gift, you may use this Dishwasher Magnet practically on every surface Dishwasher Magnets are an excellent choice for a practical and amusing gift for any occasion.
Such Dishwasher Magnets are an excellent choice for a practical and amusing gift for any occasion.
A FREE BONUS – Adhesive Metal Magnetic Plate – is included in this kit, allowing you to use a round magnet on non-metal surfaces.
CONSIDER, THAT X-BET MAGNET IS A REGISTERED TRADEMARK AND RELIABLE SELLER, THAT PROVIDES CUSTOMERS SOLELY WITH HIGH-QUALITY PRODUCTS, GONE THROUGH A WHOLE RANGE OF TESTS AND APPROBATIONS.
WHILE MANUFACTURATING, WE STRICTLY ADHERE TO ALL QUALITY STANDARDS AND PRODUCING PROCEDURES. MOREOVER, WE GIVE YOU 100% GUARANTEE OF FULL MONEY-PAYBACK IN CASE SOMETHING IS WRONG WITH THE PURCHASED PRODUCT.
PLEASE, FEEL FREE TO CONTACT US, IF YOU GAVE ANY QUESTIONS OR SUGGESTIONS CONCERNING OUR PRODUCTS.
Details
Quantity: 1 item
Size:  2'' (5 cm) x 0.08'' (2 mm)
Free Bonus: Adhesive Metal Magnetic Plate