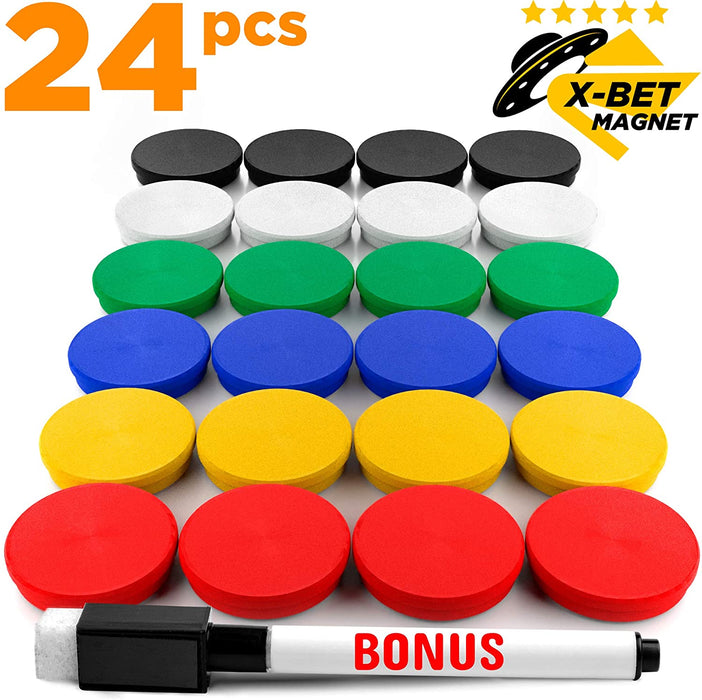 Colored School Magnets - Fridge Magnets - Colored Refrigerator Magnets for Whiteboard and Locker Magnets - 24 PCs UK
Are you a school teacher and have many papers, pictures, maps that need to be shown on the board to your student?
Do you need to pin your favorite postcards, photos or notes? Would like to organize your workspace?
MORE
We have a great solution for you – X-bet MAGNET Colored Magnets for Whiteboard.
The set of refrigerator magnets includes 24 PCs. In this set you can find six colors: white magnets, black magnets, yellow magnets, red magnets, green magnets, blue magnets.
You will get 4 PCs of each color, which sums up to 24 PCs magnets.
Practical fridge magnets for refrigerator – dimensions: 0.95'' x 0.27'' (2,4 cm x 7 mm)
White board magnet has 4200 Gauss. Rest assured in premium quality of whiteboard magnets which comply with ISO 9001 standards.
Fields of usage:
Colored refrigerator round magnets can be used as fridge magnets, whiteboard magnets, refrigerator magnets, magnets for whiteboard, abc magnets, small magnets, fridge magnets cute, home magnets,  locker magnets, teacher magnets, cactus magnets, photo magnets, wall magnets, imagination magnets, whiteboard magnets, clear magnets, and more.

Use diy magnets for Home, Kitchen, School, Science, Classroom, Homeschooling, DIY, etc.
As a FREE BONUS to this set – Black Marker!
X-bet MAGNET IS A REGISTERED TRADEMARK – CHOOSE QUALITY FUNNY POWERFUL REFRIGERATOR MAGNETS AND AVOID CHEAP FAKES.
REST ASSURED IN QUALITY OF THE FRIDGE CIRCLE MAGNETS YOU ARE USING. WE GIVE YOU A 100% GUARANTEE THAT IF ANYTHING IS WRONG – YOU WILL GET YOUR MONEY BACK!
PLEASE, FEEL FREE TO CONTACT US IF YOU HAVE ANY QUESTIONS OR SUGGESTIONS RELATED TO THIS PRODUCT.
Details
Quantity: 24 PCs
Size:  0.95'' x 0.27'' (2,4 cm x 7 mm)
Magnetic Force: 4200 Gauss
UPC 850045943523