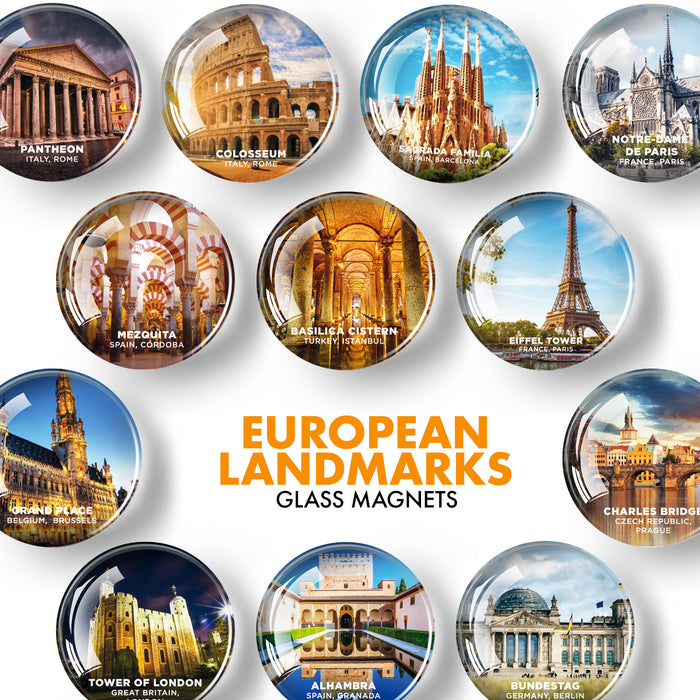 European Landmarks Magnets - Decorative Magnets for Kitchen and Whiteboard - Fridge Magnets Cute Cities - Funny Refrigerator Magnets - 12 Pcs UK
Paris, Rome, Berlin, Istanbul….sounds like a prefect trip!Travel around Europe together with X-bet MAGNET and our glass magnets.
Additional Description
All the most significant European Landmarks just on your fridge. Isn't it a dream?
X-bet MAGNET has created European Landmarks cute  magnets. Choosing this set you get funny glass fridge magnets and as an EXTRA BONUS Stickers of the same design! They are perfect to be added the laptop or phone, notebook or for office space decoration.

 With this glass magnets set you get: 
Feeling of confidence in materials used to manufacture magnets with glass doms for fridge as they abide to all the necessary standards.

 
Serves as a perfect mean of organisation. Holding pictures, notes, postal cards, different

 

artworks, Pinterest images,

 

to - do lists.
Optimal size of the ceramic magnets: 1.3'' (3,3 cm) x 0.38'' (10 mm).

 
Glass decorative magnets don't lose their magnetic characters within time.

 
Intact surface as our magnets don't cause any damage.

   
Means of applying:

Sturdy decorative magnets will help you to add some festive look to your work and home space, refrigerator.
Office, school and classroom white boards, as DIY magnets,

 

funny fridge magnets, office magnets, crafting magnets, funny magnets for fridge and so on.
Best for different kinds of Craft and DIY projects, Home, Office and Kitchen organisation, children Education

 

etc.
Moreover the glass magnetic set would serve as an ideal gift as it is already well-designed packed.

Learn the most popular European Landmarks with your child. With our magnets you may do that in a playful way. Tip: use the included stickers as a reward for a well done job – school homework done, room tidied, dishes washed, etc. 

| | | | |
| --- | --- | --- | --- |
| Glass Surface | High-Strength Magnets | Stainless Magnetic Backing | Serves as a Perfect Gift |
You can check out the whole variety of designs in our store: Glass Inspirational Magnets, Cute Butterfly Decorative Magnets, Fridge Magnets Funny Dogs, Dinosaur Magnets, Planets Magnets for Fridge, Funny Pinup Magnets, Dinosaur Magnets for Fridge, Business Quotes Magnets and other Glass Magnets.
NOTE THAT X-bet MAGNET IS AN OFFICIALLY REGISTERED TRADEMARK – SO STAY ASSURED  IN A QUALITY OF THE USED MATERIALS.
REMEMBER THAT WE GRANT YOU A 100% MONEY BACK GUARANTEE IF ANYTHING GOES WRONG ! PLEASE, CONTACT US IF YOU HAVE ANY QUESTIONS OR SUGGESTIONS RELATED TO YOUR PURCHASE.
Details

Quantity: 12 PCs
Size:  1.3'' (3,3 cm) x 0.38'' (10 mm)
Free Bonus: 12 PCs Stickers 
Video