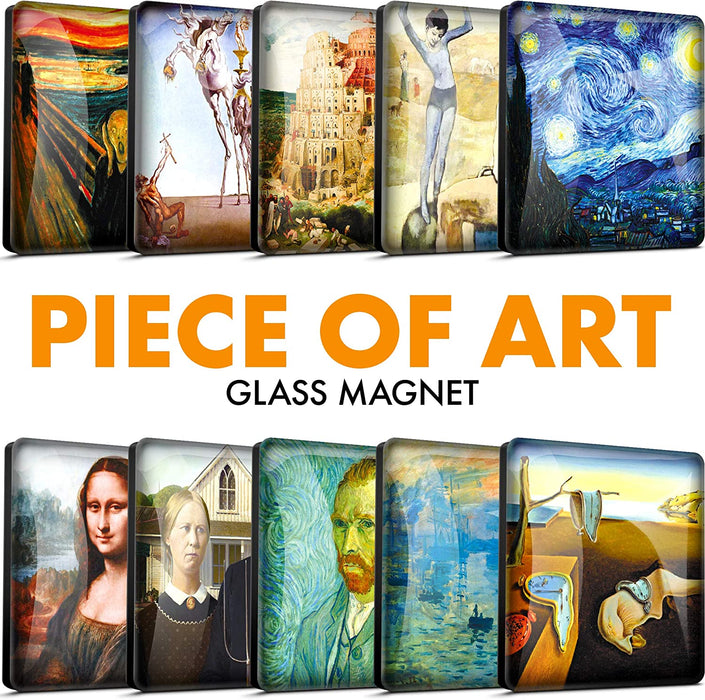 Decorative Magnets for Whiteboard - Art Glass Magnets for Refrigerator - Funny Fridge Magnets - Cute Locker Magnets UK
Have a wish to adorn your house and add some kind of art?
Do you want to show different artists and their artwork to your kids but they find it boring? Would you like to give your refrigerator an attractive look and make it more sophisticated?
MORE
We've got you covered with X-bet MAGNET cute art magnets! The set of decorative cute fridge magnets includes 10 PCs square magnets.
Practical fun cute magnets' dimensions: 1.28'' x 1.28'' x 0.35'' (3,2 cm x 3,2 cm x 9 mm). Rest assured in high quality of X-bet MAGNET square art clear glass magnets for fridge which comply with ISO 9001 standards.
Whiteboard magnet will not leave any scratches or marks on your surfaces.
| | | | |
| --- | --- | --- | --- |
| Glass Surface | High-Strength Magnets | Serves as a Perfect Gift  | Stainless Magnetic Backing |
 Fields of usage:
Sticky magnets of art can be used for different types of activities: DIY, Science, school projects, craft projects. You can use clear glass flat magnets for the office whiteboards, in the kitchen, school and classroom. Apply them as inspirational magnets, refridgetor magnets, magnets for refrigerator, fridge magnets for kids, whiteboard magnets, kitchen magnets, magnets for fridge, word magnets, tiny magnets, locker magnets, fridge magnets, magnets for kids, school magnets, motivational magnets, and more. Use mini decorative magnets to organize your kitchen space or office space.
Use funny art glass magnets not only as decoration magnets, but also as a great holder for photos, notes, documents, maps, pictures, postcards, kid's artwork, Pinterest images, menu, recipes, to do lists, etc. These round magnets can be a part of your home decor. Expand your boundaries and customize your use of these decorative magnets. 
Learn 10 famous paintings with your children – do it in the playful and funny way. Spend time together and get to know each other better. Use 10 stickers that are in the set as a small reward for a job well done – school homework done, room tidied, dishes washed, etc. Motivate your children!  
Set of fun magnets is a great creative gift idea.
As a FREE BONUS to this set – 10 PCs Art Stickers!
You can check out the whole variety of designs in our store: Glass Inspirational Magnets, Cute Butterfly Decorative Magnets, Fridge Magnets Funny Dogs, Dinosaur Magnets for Fridge, Planets Magnets for Fridge, Funny Pinup Magnets, Dinosaur Magnets, Fridge Magnets Cute Cities, Decorative Magnets for Fridge Dogs, Business Quotes Magnets and other Glass Magnets.
X-bet MAGNET IS A REGISTERED TRADEMARK – CHOOSE QUALITY FRIDGE MAGNETS FUNNY AND AVOID CHEAP FAKES.
REST ASSURED IN QUALITY OF THE ART FRIDGE MAGNETS YOU ARE USING. WE GIVE YOU A 100% GUARANTEE THAT IF ANYTHING IS WRONG – YOU WILL GET YOUR MONEY BACK!
PLEASE, FEEL FREE TO CONTACT US IF YOU HAVE ANY QUESTIONS OR SUGGESTIONS RELATED TO THIS PRODUCT.
Detail
Quantity: 10 PCs
Size:  1.28'' x 1.28'' x 0.35'' (3,2 cm x 3,2 cm x 9 mm)
Free Bonus: 10 PCs Art Stickers 
UPC 00850045943912