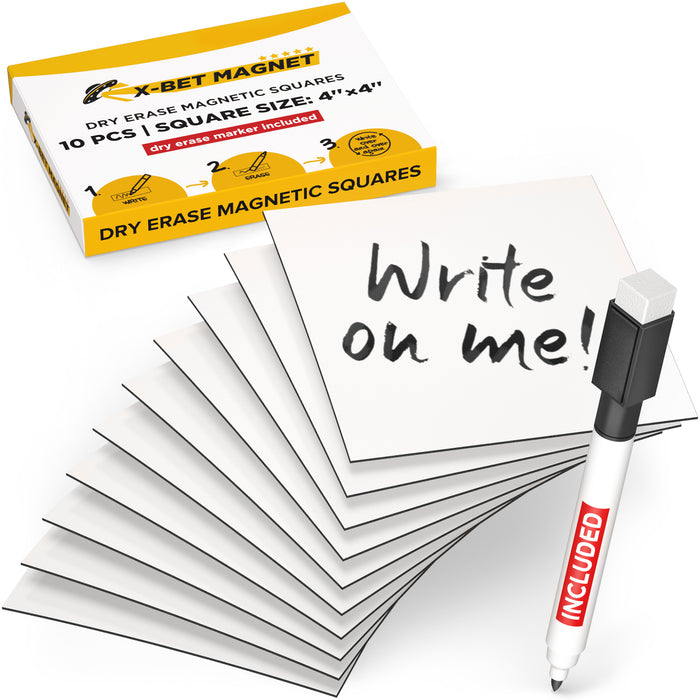 Dry Erase Magnetic Labels 4x4 - Blank Reusable Sticky Notes - Magnetic Notepads for Fridge 10 PCs- Dry Erase Magnetic Sheets
Tired or a mess and spending time to find the needed things? Want to make some notes that will be kept in sight?
MORE
X-bet MAGNET have something for you! Dry Erase Labels will be just perfect for such purposes! 
Dry Erase Labels are here for your convenience. From now on you will be able to label all your containers, shelves and so on. Each Dry Erase Sticker is of just optimal size: 4"x4" and their thickness is 0.02". Their magnetic power is about 255 Gauss, which is great for such dimensions, but remember, that these magnetic Labels are intended to be used only with light objects. Besides for 10 PCs Magnetic Dry Erase Stickers you also get Black Dry Erase Marker as an ADDITIONAL FREE GIFT, that perfectly works with Flexible Stickers.
Among other advantages of X-bet MAGNET Magnetic Dry Erase Labels are:
A full magnetic backing ensures a secure attachment to the desired magnetic surface.
Because of the flexible magnet backing's material and manufacturing process, this Dry Erase Labels won't cause any kind of damage or even leave any stains or marks.

Sufficient holding force of 255 Gauss.

These dry erase magnetic labels, like all other X-bet MAGNET products, are made with high-quality, non-toxic, eco-friendly materials and comply to strict quality requirements.

You can cut these magnets into smaller pieces or modify their shape using conventional scissors if necessary.
You can easily wipe off the message you've written on these magnets, so such magnets will assist you for a life-time, since they are reusable.


Where to use Blank Writable Magnets:
You can use them for educational and scientific purposes, as well as for kitchen and home organization. These will also be used for a variety of school tasks, art, DIY, craft, and hobby projects! Labelling storage shelves, cabinets, and whiteboards, as well as the fridge and other magnetic surfaces. Remember, that in this set besides for 10 PCs Magnetic Labels, you also get Black Dry Erase Marker as an ADDITIONAL FREE GIFT. 
X-BET MAGNET HIGHLY APPRECIATES OUR CUSTOMERS` TRUST, SO WE PROVIDE YOU ONLY HIGH QUALITY PPRODUCTS, THAT WERE PRODUCED UNDER STRICT ABIDANCE TO ALL THE INTERNATIONAL STANDARDS AND GOT THROUGH A NUMBER OF INSPECTIONS.
OUR TOP PRIORITY IS SATISFACTION OF OUR CUSTOMERS, SO PLEASE FEEL FREE TO CONTACT US, IN CASE YOU HAVE ANY QUETSTIONS OR PROPOSALS. WE ARE ALWAYS HERE TO HELP YOU OUT.
REMEMBER, THAT WE PROVIDE YOU WITH A GUARANTEE OF FULL REFUND, IF SOMETHING IS WRONG WITH THE PRODUCT.
Details
UPC: 00850045943370
Quantity: 10 PCs 
Size:  4" x 4", Thickness 0.02" (0,5 mm)
Magnetic Force: 255 Gauss
Free Bonus: Dry Erase Marker with eraser