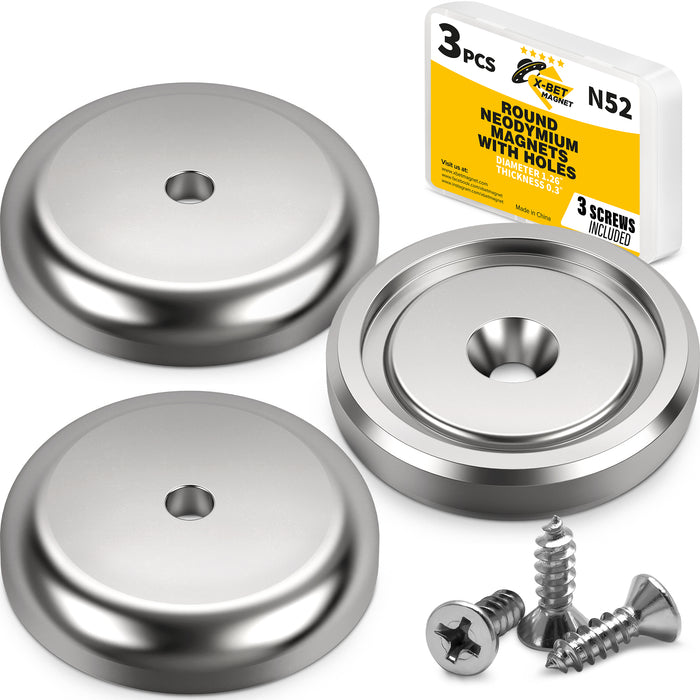 Extremely Strong Neodymium Cup Magnets 3 Pcs - Industrial Strength Round Base Rare Earth Magnets
Tired of useless weak magnets? Looking for really effective strong magnets with adequate holding power?

MORE

X-bet MAGNET has prepared something for you. Have a look at Extremely Strong Neodymium Cup Magnets of multifunctional usage with great holding power!

Industrial Strength Round Base Neodymium Magnets can serve for any of your needs. By getting this set you also obtain EXTRA FREE BONUS : 3 PCs mounting screws, so you don't have to worry about picking up and buying additional screws for magnets installation . Notwithstanding small size of the Countersunk Magnets with Holes which are about 1.26" (32mm) x 0.31" (8mm), they are of great holding power that measures about 66 LB (30 kilograms) which would be more than enough both for home and industrial usage.

What makes X-bet MAGNET Neodymium Cup Magnets the best variant to choose:

Apart from 3 PCs Round Base Neodymium Magnet, you also get FREE ADDITIONAL BONUS -3 PCs screws included, which makes these magnets even more multifunctional and expands usage range since thus they can be applied to non-magnetic surfaces with countersunk head screw. 
Super Strong Neodymium Cup Magnets are coated with three layers of nickel, copper and nickel, ensures their protection from any possible external influences. 
Industrial Strength Rare Earth Magnets have high level of resistance to corrosion oxidation and even thermal stress, but bear in mind that max operation temperature is 80C/176F.
Countersunk Hole Magnets have no limitation of usage since won't lose their magnetism with time. 
These Cup Magnets, just like any other our products are adjusted to ISO 9001 Quality Systems.
North and South poles are placed on the opposite sides of the magnets.
There is a countersunk hole in each magnet for easy use applicable with #10 flat head screw.

Due to such great holding power of Strong Neodymium Cup Magnets, they are great variant for use around the House, Office, Garage, Classroom and also for Industrial use. They are perfect for organising working space, to hold tools in place, so they are within easy reach. Heavy weighted tools and objects also don't present a challenge for such strong magnets. Possible usage of these round cup magnets include holding up, lifting, organising and keeping things in place.

X-BET MAGNET IS AN OFFICALLY REGISTERED TRADEMARK AND RELIABLE BRAND. WE RECOMMEND YOU TO AVOID LOW QUALITY FAKES THUS YOU OBTAIN SOLELY WELL MADE PRODUCTS. STAY ASSURED IN QUALITY OF STRONG NEODYMIUM CUP MAGNETS. WE PROVIDE YOU A GUARANTEE OF FULL AMOUNT REFUND IN CASE THERE ARE ANY ISSUES WITH THE PRODUCT! WE ARE ALWAYS THERE TO FIGURE OUT ANY ISSUES YOU MAY NEED ASSISTANCE WITH.

Details


Quantity: 3 PCs
Size: 1.26" (32mm) x 0.31" (8mm)
Holding force: 66 LB (30 kilograms)
FREE BONUS : 3 Pcs Screws