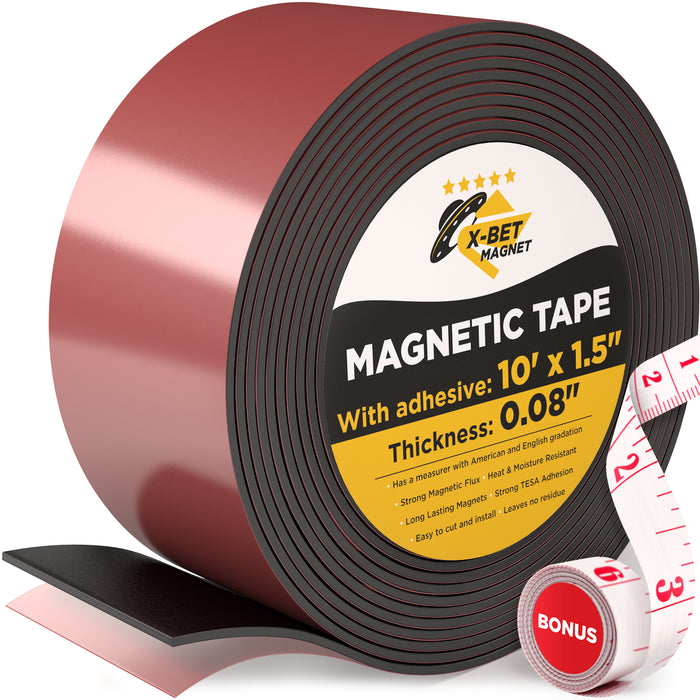 Flexible Magnetic Tape - Wide 1.5 Inch x 10 Feet Sticky Magnetic Strip - Adhesive Magnets for DIY, Craft and Education UK
Have you dreamed of a personal assistant in the kitchen and at home?
Did you want to attach several things to one magnet, but failed?
MORE
Brand X-bet MAGNET found a solution to this problem - magnetic flexible adhesive tape.
Thanks to the flexible tape, now you can not only adhere the tape to any surface but also attach several magnetic objects to the tape.
Firstly, let's analyze the technical characteristics of magnetic strips:
Practical Dimensions: 10 Feet (3,8 m) x 1.5 Inch (3,8 cm) x 0.08" (2 mm)

Magnetic rolls have 675 Gauss. The magnetic tape wide will not leave any stains.

Rest assured in the premium quality of X-bet MAGNET strong knife magnetic strip, which complies with ISO 9001 standards.
Secondly, let's find out where 3m adhesive tape can be used:
Great to use on smooth surfaces - plastics, metals, even wood.

Ideal for a wide range of applications: home, science, education, labeling storage shelves, banners, boards, fridge, tools, kitchen, fun teaching tool, creative kid projects, refrigerator, office organization, magnets for crafts, shelf labels, graphics, magnets for whiteboard, knife holder, living rooms, and more.
Thirdly, let's explore how to use magnetic strip correctly:
Use scissors to trim the flexible magnetic roll to a desired size.

Adhere the magnetic flexible strip to a metal surface or any other smooth surfaces you want and wait up to 24 hours to the strip to straighten completely.

To get better holding results use 2 or more adhesive magnetic tape rolls to achieve better magnetic properties.
Attention!
Do not attach strips to each other or other magnets. Thin Magnetic Tape consists of two magnets' interlayers with contrary poles.
The magnetic strips were created to hold small, lightweight objects.
We give you a FREE BONUS – Flexible Measurer!
X-bet MAGNET IS A REGISTERED TRADEMARK – CHOOSE QUALITY FLEXIBLE ADHESIVE MAGNETIC TAPE AND AVOID CHEAP FAKES.
REST ASSURED IN QUALITY OF THE MAGNET STRIPS YOU ARE USING. WE GIVE YOU A 100% GUARANTEE THAT IF ANYTHING IS WRONG – YOU WILL GET YOUR MONEY BACK!
PLEASE, FEEL FREE TO CONTACT US IF YOU HAVE ANY QUESTIONS OR SUGGESTIONS RELATED TO THIS PRODUCT.
Details
Quantity: 1 item
Size: 10 Feet (3,8 m) x 1.5 Inch (3,8 cm) x 0.08" (2 mm)
Magnetic Force: 675 Gauss
UPC 00850045943936