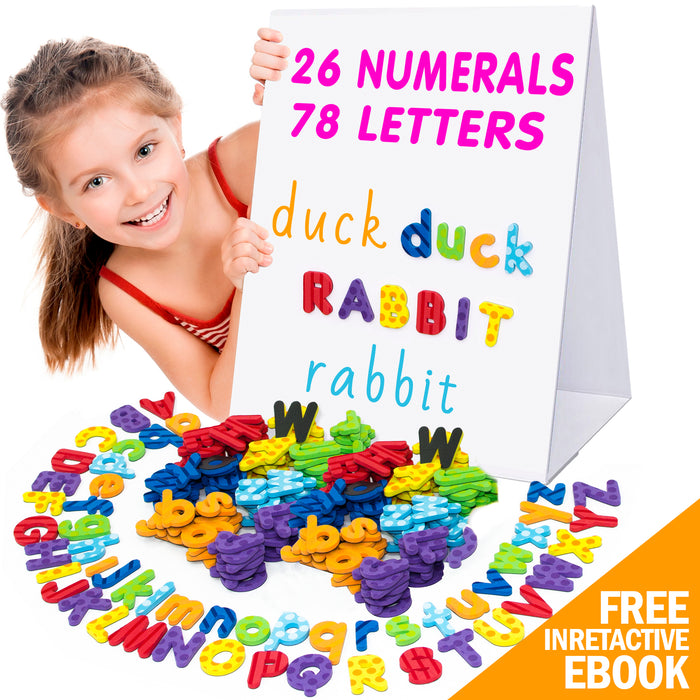 Best Educational Foam Magnets for Kids and Toddlers- 123 ABC Alphabet Magnets- 104 PCs
Planning to rise a small genius? It is time to begin the study process!
Looking for an ideal teaching method so your child would feel fascinated about studying? 

MORE
X-bet MAGNET thinks through every detail for your comfort and convenience. We are offering you a perfect Magnetic set, which would definitely leave you satisfied. 

The set contains 104 PCs: 78 PCs Letters and 26 PCs Numerals. This set will be a great helper for your kid at improving memorization skills, learning skills and developing finger motor skills.
Practical dimensions: baby magnets 1.6'' (4 cm), lowercase letters 1.2'' (3 cm) - ideal for small kid's hands.

While using EVA Foam figures your child will better memorize new words. Making up syllables , then words and whole sentences will enrich and expand kids vocabulary. Involve your toddler into the learning process while using cute magnetic figures and letters.

| | | | |
| --- | --- | --- | --- |
| High-Quality Materials | Full Magnetic Backing |  Attractive Design | Easy to Organise and Store |
All of our Children's Foam Sets meet all American Toy Safety Standards. They are cruelty-free, eco-friendly, and paraben-free. While making our Children's Foam sets, we incorporate only premium EVA Foam materials that do not cause any harm to health.

As an ADDITIONAL FREE BONUS we have crated an eBook which contains interactive games, tips and tricks on teaching your child how to spell learn and  count that will assist you in a better learning process. All you need is to scan a QR code with your phone and it will take you straight to the eBook which you can easily download on your device.

Bright colors and vivid designs will definitely attract the attention of your children!

Fields of usage:

Each sticky letter or figure from play set can be with effortlessly applied to any metal surfaces – fridge, whiteboard, blackboard, and more.  Use them as animal magnets for toddlers, colorful magnets, 123 abc magnetic letters, baby fridge magnets, foam kids magnetic objects, kids set, letter magnets, alphabet magnets for fridge.
X-bet MAGNET IS A REGISTERED TRADEMARK – CHOOSE QUALITY 123 ABC MAGNETS AND AVOID CHEAP FAKES. 
REST ASSURED IN QUALITY OF THE MAGNETS FOR KIDS YOU ARE USING. WE GIVE YOU A 100% GUARANTEE THAT IF ANYTHING IS WRONG – YOU WILL GET YOUR MONEY BACK! 
PLEASE, FEEL FREE TO CONTACT US IF YOU HAVE ANY QUESTIONS OR SUGGESTIONS RELATED TO THIS PRODUCT. 
Details

Quantity: 104 PCs ( 78 PCs Letters and 26 PCs Numerals)
Size:  baby magnets 1.6'' (4 cm), lowercase letters 1.2'' (3 cm)
Bonus: e-book with a variety of games
Video