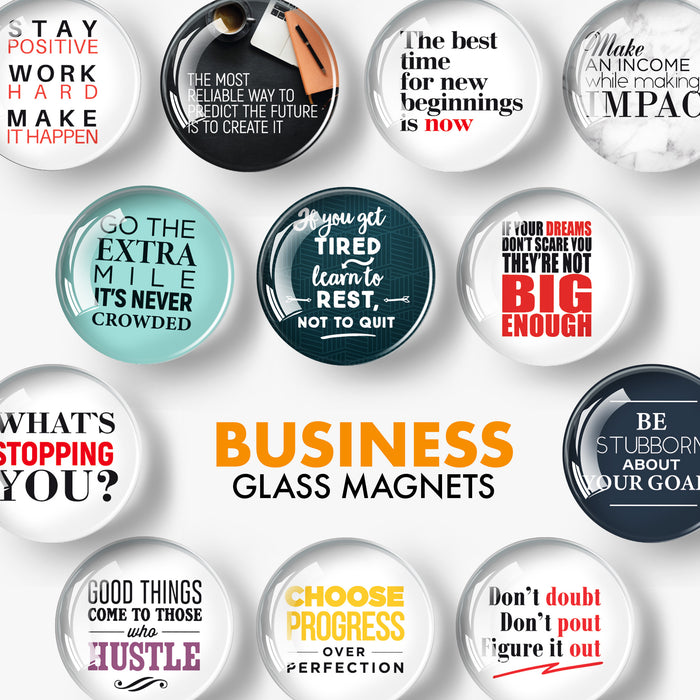 Business Quotes - Glass Motivational Magnets - Decorative Magnets for Fridge - Glass Magnets Funny - 12PCs
Work hard and make it happen!
X-bet MAGNET  Business Quotes magnets motivate you for new achievements. Add some inspiration to daily routine.

Additional Description
X-bet MAGNET thought through every detail and launched decorative glasses which completely meet your preferences  – decorative glass Business Quotes set.

By choosing it you get:

12 PCs funny motivational magnets of optimal value: 1.3'' (3,3 cm) x 0.38'' (10 mm).

 
As an ADDED FREE-OF-CHARGE 12 PCs Stickers of the same design!

 
Each piece is manufactured only with premium materials that adhere to 9001 ISO standards.

 
Durable magnets that won't get weaker with time.

 
Undamaged surface, as the magnets do not leave any marks.

 
Tidy organised look of your working space.
A piece of daily motivation.
Family photos, written notes, needed documents, holiday pictures, postal cards, artwork of your child, motivational pics, check lists are easily held by this glass magnetic set.

 
Ways to use:

Making some DIYs and different Craft tasks, managing Home and Kitchen organisation.

 
Applying to any magnetic surface including metal, stainless steel.

 
As

 

motivational magnets, magnets for school and office, crafting magnets, quotes magnets, round magnets, magnets DIY, cute and funny magnets for fridge.
This set acts as a great idea for a gift thanks to thoroughly-designed package.

| | | | |
| --- | --- | --- | --- |
| Glass Surface | High-Strength Magnets | Stainless Magnetic Backing | Serves as a Perfect Gift |
You can check out the whole variety of designs in our store: Glass Inspirational Magnets, Cat Decorative Magnets, Art Magnets, Fridge Magnets Funny Dogs, Dinosaur Magnets for Fridge, Planets Magnets for Fridge, Cute Butterfly Magnets, Funny Pinup Magnets, Dinosaur Magnets, Fridge Magnets Cute Cities, Decorative Magnets for Fridge Dogs and other Glass Magnets. 
 TAKE INTO ACCOUNT THAT X-bet MAGNET IS A REGISTERED TRADEMARK – GIVE PREFERENCES VERIFIED MANUFACTURER  AND EVADE LOW-COST FAKES.
BE CONFIDENT THAT YOU GET A 100% PAY BACK IN CASE SOMETHING GOES WRONG WITH THE PRODUCT!
PLEASE, DON`T HESITATE AND CONTACT US FOR ANY ISSUES YOU MAY FACE.
Details
Quantity: 12 PCs
Size:  1.3'' (3,3 cm) x 0.38'' (10 mm)
Free Bonus: 12 PCs Stickers 
UPC 850045943547
Video