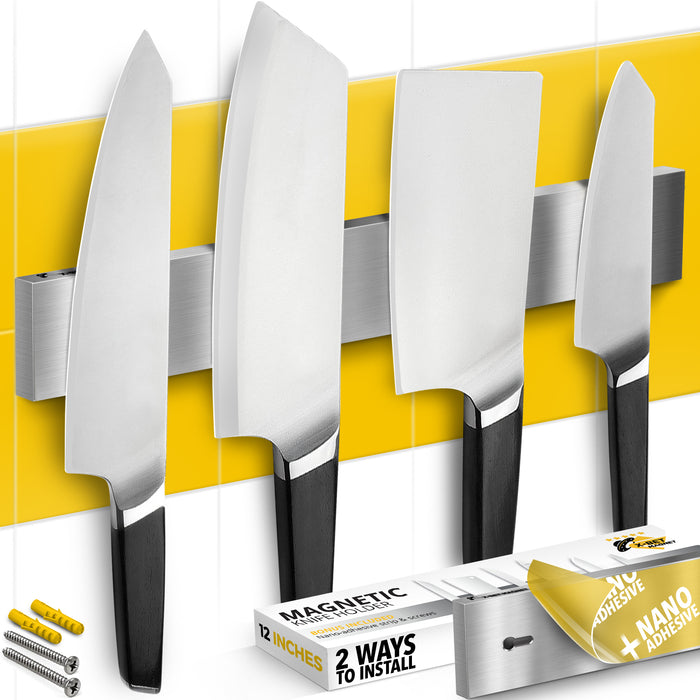 Knife Magnetic Strip 12" with Adhesive – Magnetic Knife Holder for Wall no Screws
Looking for something to keep your knives and utensils organised?
MORE
We totally understand you and thought through every detail for you !
Check out our new Magnetic Knife Holder! By getting this Magnetic Knife Holder you also obtain ADDITIONAL FREE GIFT: sturdy, reusable and waterproof sticky nano tape and mounting screws.
Magnetic Knife Block is of perfect size for your convenient usage : 11.8" (30cm) x 1.9" (5cm) x 0.6" (1,5cm).

You shall note that all our products including this Knife Holder adhere to all the necessary standards including ISO 9001. So you can be assured in the high quality of X-bet MAGNET Magnetic Knife Holder for Wall no Screws.
Besides, Magnetic Knife Block use as Knife Rack, Knife Bar, Kitchen Utensil Holder, tool for holding knives and kitchen organization do not loose their magnetic powers over time and are resistant to corrosion and rust.

You may install them in two ways. Glue or drill:


By using nano tape. Yo may just peel and stick tape to the magnetic knife holder and stick to the surface you are planning to use it on. Note that removable, waterproof and reusable nano tape won't leave any marks or stains. Stick it the following surfaces: smooth wood, plastic, metal, glass, PVC and tiles, etc.
By drilling and using screws that we added as a FREE BONUS, that will help to ensure magnetic knife holder staying in place. For more sturdy attachment it is better to use this kind of installations. There is no way it will fall off or move. It will be taken off only in case you intend it to be.


These are perfect for Kitchen, Home, Office and Garage organisation.

KEEP IN MIND THAT X-bet MAGNET IS AN OFFICIALLY REGISTERED TRADEMARK. AVOID LOW QUALITY FAKES TO OBTAIN ONLY WELL MADE GOODS. DUE TO THE ADHERENCE TO THE INTERNATIONAL STANDARDS YOU MAY STAY ASSURED IN QUALITY OF THE MAGNETIC KNIFE HOLDER. WE GIVE YOU A FULL GUARANTEE OF 100% REFUND IF THERE ARE ANY ISSUES WITH THE PRODUCT! PLEASE, REMEMBER THAT YOU ARE MORE THAN WELCOME TO CONTACT US WITH ANY ISSUES YOU MAY NEED ASSISTANCE WITH.
Details
UPC 00850045943332
Size: 11.8" (30cm) x 1.9" (5cm) x 0.6" (1,5cm)

FREE BONUS: adhesive nano tape and screws

Video