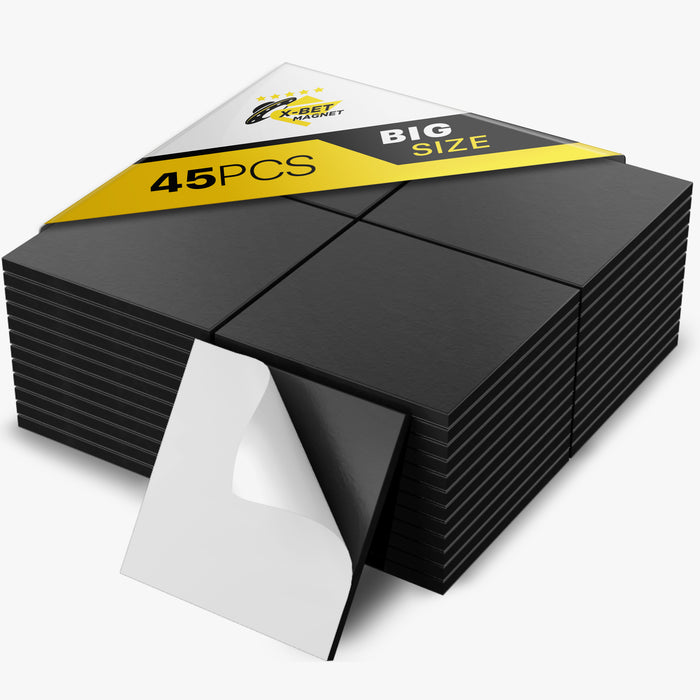 Large Magnetic Squares - Self Adhesive Magnetic Squares - Magnetic Sheets - Flexible Sticky Magnets - 45 PCs UK
Have you been looking for the ideal lightweight large adhesive square magnets?
Don't know what kind and shape of the magnets you want to use? Sticky dots by X-bet MAGNET are the perfect flexible magnets you can use for any of your needs.
MORE
The set of magnetic squares includes 45 PCs adhesive magnet dots. Practical square magnets dimensions – 1.2'' x 1.2'' (3 cm x 3 cm), thickness: 0.08'' (2 mm).
Each disc with adhesive backing can hold up to 120-140 grams. We have researched and developed high-quality magnetic sheets for YOU: adhesive magnets, black disc magnets, magnetic sheet.
Recommended application:
Adhesive black magnets can be used on different smooth surfaces - on metal, tiles, stainless steel, plastic, etc.
Adhere tiny magnets to any lightweight object you want and use them for different needs: home, craft projects, DIY projects, school, science, office, kitchen, classrooms, living rooms, industrial magnets, picture magnets, photo magnets, fridge magnets, magnetic dots, refrigerator magnets, tools, wall, garage, flexible sticky magnets, whiteboard magnets, disc magnets, kitchen magnets, magnets for refrigerator, super magnets, and more. For more creative ideas and uses check out our product images.
Flexible Magnetic Tape can perfectly hold your shopping lists, to do lists, pics, photos, tasks, reminders, save the date magnets, etc.
You can use 2 or more black magnetic strips to get better and stronger holding results.
Attention:
Do not use magnets together and do not stick them to each other due to the opposite two layers poles on each dot.
Small magnetic squares are perfect for attaching flat and lightweight objects.
X-bet MAGNET IS A REGISTERED TRADEMARK – CHOOSE QUALITY FLEXIBLE MAGNETIC SQUARES AND AVOID CHEAP FAKES.
REST ASSURED IN QUALITY OF THE MAGNET TAPE STRIPS YOU ARE USING. WE GIVE YOU A 100% GUARANTEE THAT IF ANYTHING IS WRONG – YOU WILL GET YOUR MONEY BACK!
PLEASE, FEEL FREE TO CONTACT US IF YOU HAVE ANY QUESTIONS OR SUGGESTIONS RELATED TO THIS PRODUCT.
Details
Quantity: 45 PCs
Size: 1.2'' x 1.2'' (3 cm x 3 cm), thickness: 0.08'' (2 mm)
Holding Power: up to 120-140 grams
UPC 00850045943417
Video