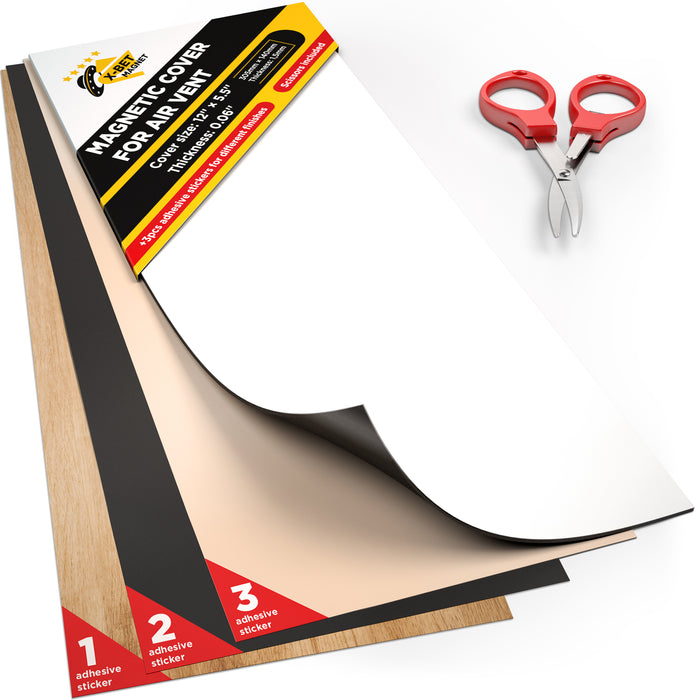 Magnetic Air Vent Cover 5.5 inch x 12 inch - AC Vent Cover - Strong Flexible Magnet Vent Covers - Vent Blockers
Adjust comfortable temperature and improve your energy efficiency with our new Magnetic Air Vent Covers.
MORE
The X-bet MAGNET magnetic vent cover is the ideal solution for controlling air flow, sealing vents, and reducing sound transmission.
Purchasing this set of Magnetic Air Blocker you receive Magnetic Air Cover of extremely convenient dimensions: 12 Inches x 5.5 Inches and 1.5 mm thickness and also as a FREE BONUS you will get foldable scissors and 3 Adhesive Stickers of different finishes and designs, so it will definitely match with your interior.  The vent cover is constructed of a powerful anisotropic rubber magnet with a holding strength of 75g per cm2 and a magnetic force of 350 Gauss - far stronger than most household air vent covers!

What are main, but not the least advantages of our Strong Flexible Magnet Vent Covers:
Full magnetic backing that provides strong grip of the Vent Cover.

Smooth backing prevents stains, marks, and other damage to the treated surface.

Just like the rest of X-bet MAGNET products, Magnetic Air Vent Covers are made with non-toxic, environmentally friendly materials that have undergone extensive testing


You can cut these Vent Covers to any size or shape you need, as well as make smaller covers if needed.


Keep in mind that these Air Vent Covers are reusable because you can easily take them off and adhere to another Vent.


The magnetic force of Magnetic Air Vent Covers will not deteriorate over time because they are resistive to demagnetization.


Where should magnetic vent covers be used?
Magnetic air vent covers for ceiling, floor, wall vents can be used in a variety of settings, including the living room, bedroom, and kitchen, as well as the office, school, and garage.
Also, when you purchase our air vent magnetic cover, you will receive SCISSORS and THREE ornamental sticky stickers in black, dark cream, and natural wood as a FREE BONUS!
X-BET MAGNET PAYS EXTREME ATTENTION TO EVEN THE SMALLEST DETAIL. ALL PRODUCTS ARE MADE IN ACCORDANCE WITH INTERNATIONAL QUALITY STANDARDS AND ECO-FRIENDLY MATERIALS.
REMAIN CONFIDENT IN THE QUALITY OF THE PRODUCTS YOU BUY. WE ALSO GUARANTEE A FULL REFUND IF THE PRODUCT DOES NOT WORK AS IT SHOULD.
IF YOU HAVE ANY QUESTIONS, SUGGESTIONS, OR NEED ANY ADDITIONAL INFORMATION, PLEASE DO NOT HESITATE TO CONTACT US. WE ARE ALWAYS AVAILABLE TO HELP YOU.
Details
UPC: 00850045943363
Quantity: 1 PCs
Size: 12 Inches x 5.5 Inches x 1.5 mm
Bonus: Foldable scissors + 3 PCs Adhesive Designed Stickers