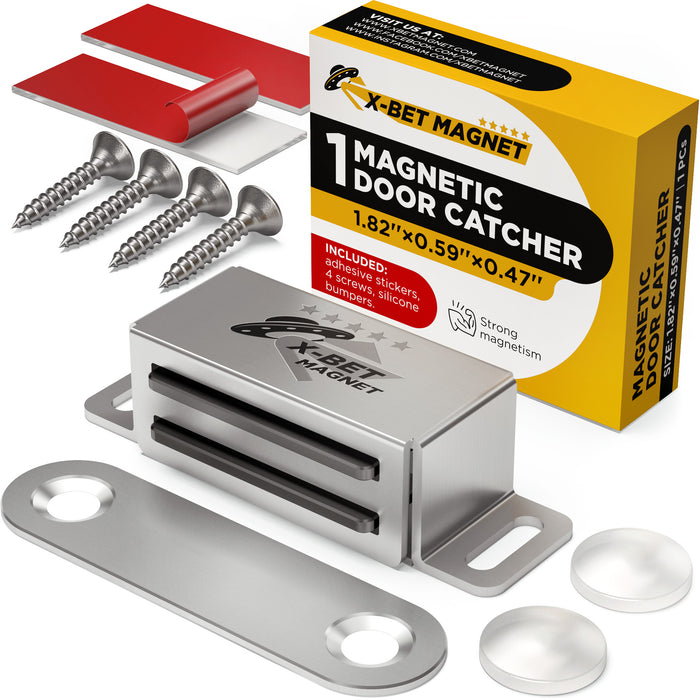 Magnetic Door Catch Adhesive - Cabinet Door Magnets Heavy Duty 1 PCs - Cabinet Door Magnetic Catch - Stainless Steel Drawer
Upgrade your home's comfort level with the X-bet MAGNET magnetic door catch!
MORE
No more door slamming noises or cracks on the walls or other interior elements. We thought through every detail and are happy to present you our new heavy duty door catcher.
 The cabinet magnet has optimal dimensions: 1.82" x 0.59" x 0.47". It is comprised of stainless steel and iron, which is a powerful combination that makes the door magnets heavy duty, resilient, and long-lasting.
EXTRA FREE BONUS. Purchasing our magnetic door catcher bundle, you'll receive 4 screws, adhesive sticker, and 2 silicone bumpers - everything you'll need for a wonderful user experience and quick installation of cabinet magnetic catch.
STRONG MAGNET magnetic door lock has ferrite magnet inserted, which has been shown to be far more corrosion-resistant in comparison to other magnets. Its great holding force will provide the magnetic door catch tightly closing the doors.
Helpful multipurpose tool for your home, office, or classroom. Our magnetic door catch adhesive is ideal for keeping doors shut. Magnet door catches can be used to keep doors snugly shut in kitchen cabinets, pantry cabinets, closet doors, dressers & chests of drawers, and cupboards.
The magnetic cabinet door catch is simple to use and install. There are two ways of installation:
With the

use

of

the accompanying adhesive sticker, so there is no need to drill out holes, that will take less than 2 minutes of your time.


Mounting screws are another option for securely attaching door catches.
REMEMBER THAT X-BET MAGNET IS AN OFFICIALLY REGISTERED TRADEMARK AND TRUSTWORTHY SELLER WHO ONLY PROVIDES OUR CUSTOMERS WITH HIGH-QUALITY PRODUCTS, MANUFACTURED IN ACCORDANCE WITH ALL INTERNATIONAL STANDARDS AND USING HIGH-QUALITY MATERIALS.
 FURTHERMORE, WE PROVIDE YOU WITH 100% GUARANTEE, THAT IF ANYTHING GOES WRONG WITH THE PURCHASED PRODUCT, WE WILL REFUND YOUR MONEY IN FULL.
IF YOU REQUIRE ANY CLARIFICATION OR CONSULTATION RELATING TO OUR PRODUCTS, PLEASE DO NOT HESITATE TO CONTACT US.
Details
Quantity: 1 PCs
Size: 1.82" x 0.59" x 0.47"
Bonus: 4 screws; adhesive sticker; 2 silicone bumpers