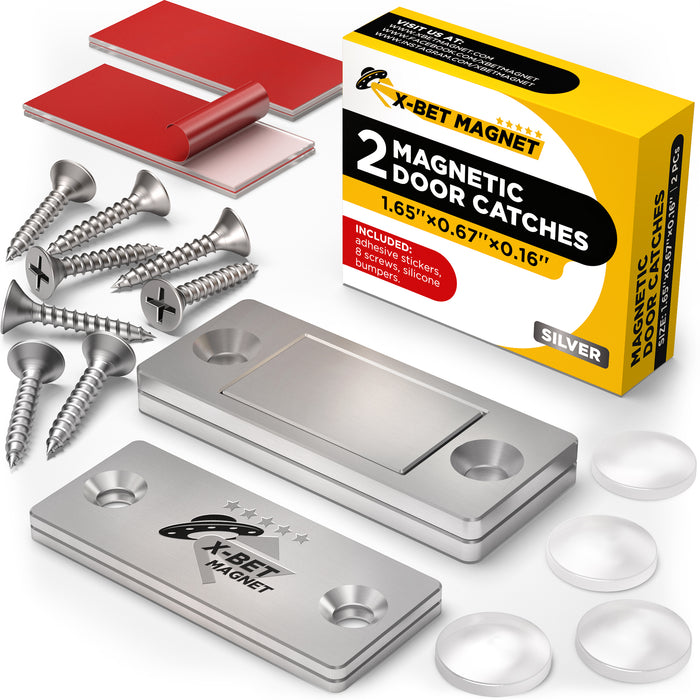 Magnetic Cabinet Door Catch Silver - Cabinet Door Magnets Heavy Duty 2 PCs - Magnetic Door Latch - Thin Magnets for Cabinet Doors Closet Cupboard
Adding X-bet MAGNET Silver Magnetic Catchers will be an amazing way to decorate and improve your home!
MORE
Are you sick of slamming doors, cracks in the walls, and a destroyed interior all throughout your house? We completely understand you and have devised just perfect solution.
Our heavy-duty Silver Magnetic Door Catches can serve both for decorative as well as for utilitarian purposes. They'll not only be functional in your home, but they'll also look fantastic! The Silver Door Stopper are of the following dimensions: 1.65" x 0.67" x 0.16", that are just optimal.
We chose to make our Door Catchers out of stainless steel, as it is extremely strong and long-lasting material. As an ADDITIONAL FREE BONUS we included 4 PCS adhesive stickers, 8 mounting screws, and 4 silicone bumper pads in each packaging. So basically, everything needed for the installation of the door stopper is already included in the set, so you do not need to buy anything additionally.
Our heavy-duty door stopper's neodymium magnet will definitely catch the door or cabinet, preventing it from crashing or slamming into walls, keeping it open for proper airflow when necessary, and simply keeping it open when desired.
Because of the shape and size of Magnetic Door Catchers, this beneficial magnetic door holder won't get in the way of your usual cleaning routine and won't cause any other additional problems. The silver door stopper is long-lasting and versatile, complementing practically any interior.
We included every detail required for installation in the package as an ADDITIONAL FREE BONUS: Apart from the strong magnetic door catcher, there are 4 PCS adhesive stickers, 8 mounting screws, and 4 silicone bumper pads.
A wall door stopper can be installed in one of two ways:
1) The double-sided adhesive stickers provided in the packaging are used to swiftly and conveniently connect the magnet door holder with no holes. Simply peel off the backing and place your catcher in the appropriate location.
2) Screws are included as a FREE BONUS and are used to secure the door stopper to the floor for a more durable effect.
Our door stopper can be used on a variety of surfaces, including wood, tile, marble, glass, and more, thanks to a wide selection of mounting choices. As a result, it may be used in a variety of settings, including your bedroom, living room, kitchen, bathroom, office, and others.
X-BET MAGNET CARES ABOUT ITS CUSTOMERS AND MANUFACTURING DETAILS. ALL PRODUCTS ARE MADE WITH ECO-FRIENDLY MATERIALS AND IN STRICT ACCORDANCE WITH INTERNATIONAL QUALITY STANDARDS.
STAY ASSURED IN THE QUALITY OF THE PRODUCTS YOU PURCHASE. ADDITIONALLY, WE GUARANTEE YOU A FULL REFUND IF THE PRODUCT DOES NOT MEET YOUR EXPECTATIONS.
PLEASE DO NOT HESITATE TO CONTACT US IF YOU HAVE ANY QUESTIONS, SUGGESTIONS, OR NEED ANY ADDITIONAL INFORMATION. WE ARE ALWAYS AVAILABLE TO ASSIST YOU.
Details
Quantity: 2 PCs
Size: 1.65" x 0.67" x 0.16"
Bonus: 4 PCS adhesive stickers, 8 mounting screws, and 4 silicone bumper pads