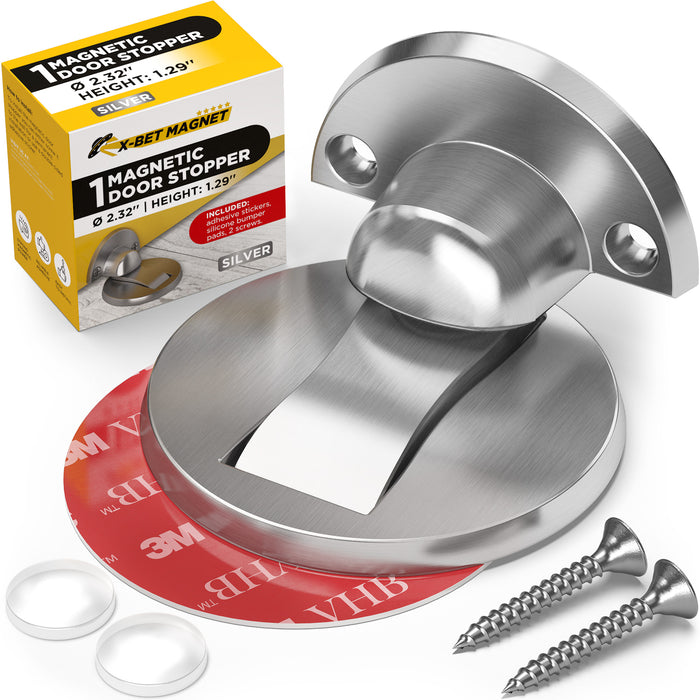 Magnetic Door Stopper Silver - Heavy Duty Door Stop Self Adhesive 1 PCs- Door Stoppers Wall Protector - Magnet Door Holder Door Catch - Magnetic Doorstop Floor Mount
Improve your household with X-bet MAGNET Silver magnetic Door Stoppers!
MORE
No more door slamming, cracks in walls and damaged interior. Our new self-adhesive Door Stoppers will save you from such problems!
Our heavy-duty Silver Magnetic Door Stoppers combine both useful practical features and decorative function. They will be not only useful, but will also look fantastic at your home! Silver Door Stopper has extremely practical dimensions: 2.32" x 1.29". Stainless steel is used to make each Door Stopper. We also included to the bundle 2 PCs adhesive stickers, 4 mounting screws, and 5 silicone bumper pads in the package as an EXTRA FREE BONUS. Door Stoppers are entirely ready for installation.
Since they are manufactured of stainless steel, it makes them robust, corrosion-resistant, and rust-proof.
Our strong duty door stopper's neodymium magnet will undoubtedly catch your door to prevent it from slamming or smashing against walls, hold it open for appropriate airflow, and simply when you want it to. The high magnetic strength of the door holder makes it ideal for use as a magnetic door catch and wall protection.
The shape and size of this useful magnetic door holder won't interfere with your regular cleaning routine and is difficult to trip over. The strong durable door stopper in silver is suitable for practically any interior design.
In the bundle you will find AS A FREE BONUS everything you for you need for installation, including 2 adhesive stickers, 4 screws, and 5 silicone bumper pads in addition to the heavy durable door stop.
Wall door stopper can be easily installed IN TWO WAYS. Place the door stops in the manner most convenient for you:
1)With the use of double-sided sticky stickers to quickly and easily attach the magnet door holder with no holes.
2)For more long-lasting outcome, use screws to permanently install the door stopper on the floor.
WIDE APPLICATION RANGE: Our doorstopper is compatible to the wide range of surfaces, including wood, tile, marble, glass, and more, owing to multiple installation choices. As a result, adoptable in your bedroom, living room, kitchen, bathroom, at home, at work, and so on.
X-BET MAGNET IS REGISTERED TRADEMARK AND RELIABLE SELLER, THAT PROVIDES SOLELY PRODUCTS, THAT ARE MADE UNDER STRICT CONTROL OF QUALITY AND WITH ABIDANCE TO ALL THE INTERNATIONAL STANDARDS.
REST ASSURED IN THE QUALITY OF PRODUCTS YOU GET. MOREOVER WE GUARANTEE YOU FULL REFUND OF YOUR PURCHASE IN CASE ANYTHING GOES WRONG WITH THE ITEMS, YOU PURCHASED. 
PLEASE, REMEMBER TO CONTACT US IF YOU HAVE ANY QUESTIONS OR SUGGESTIONS.
Details
Size: 2.32" x 1.29"
Bonus: 2 PCs adhesive stickers; 4 mounting screws; 5 silicone bumper pads