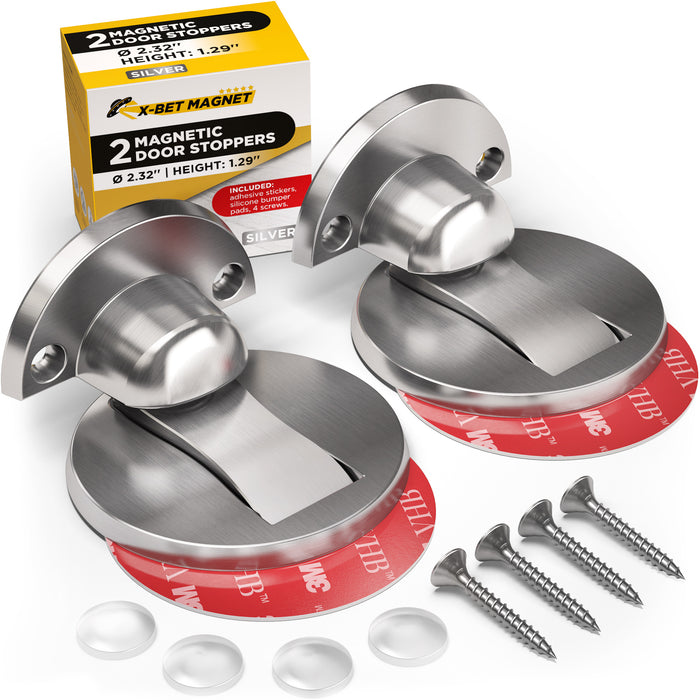 Magnetic Door Stoppers for Bottom of Door 2 pcs - Magnetic Door Stops Floor Mount - Magnetic Door Holder Silver - Door Stopper Wall Protector
X-bet MAGNET Silver magnetic Door Stoppers
will definitely
improve your home!
MORE
There will be no more doors
slamming, cracks in the walls, or internal damage. Such issues will be avoided with our new sticky Door Stoppers!
They'll not only be useful, but they'll also look fantastic in your home! Silver Door Stopper have just optimal size of 2.32" x 1.29". We also included 4 adhesive stickers, 8 screws, 10 silicone bumper pads in the package as ADDITIONAL FREE BONUS, so the door Stoppers are entirely ready for installation.
The benefits of X-bet MAGNET Magnetic Door Stoppers are as follows:
Strong Neodymium Magnet: This magnet will keep your doors from slamming, bumping, and readily catching when you wish to keep the doors open.

Because Stopper is made of stainless steel, it will last a lifetime. Our Silver Door Stoppers are corrosion and demagnetization resistant.

Installation is simple and takes less than 2 minutes (all the needed installation accessories       are included in the set).

Our Magnetic Door Stopper works on a variety of surfaces, including wood, ceramic tile, marble, and glass.

The magnetic door catcher's thoroughly designed shape guarantees non-interfering while cleaning or cause any other issues.

Modern and minimalistic design of heavy duty door stoppers allows you to use them in a variety of styles; the powerful black magnetic door stopper won't draw too much attention, but it will properly function as a practical instrument for upgrading your home space.

Door stopps for the bottom of the door are commonly used as door catches and holds, and they will substantially protect your walls and knobs from damage, as well as keep your doors from slamming and so on.
Installation can be done in two ways:
1) If you don't want to drill or make holes, a strong magnetic door stopper with adhesive stickers is an option. Simply peel and stick it to the door stopper before applying it to the floor.
2) Another option for firmly installing door catches is to utilize mounting screws.
 Because this Magnetic Door Stopper is so versatile, it may be used on a variety of surfaces at home, office, bedroom, living room, kitchen, bathroom, and other areas of your home and workplace.
KEEP IN MIND, THAT X-BET MAGNET IS AN OFFICIALLY REGISTERED TRADEMARK AND RELIABLE SELLER, THAT SUPPLIES OUR CUSTOMERS ONLY WITH HIGH-QUALITY PRODUCTS, MANUFACTURED UNDER ALL THE INTERANTIONAL STANDARDS OUT OF HIGH-QUALITY MATERIALS.
STAY ASURED, THAT WE WILL PROVIDE YOU 100% MONEY-PAYBACK IF  SOMETHING GOES WRONG WITH THE PURCHASED PRODUCT.
PLEASE, DON`T HESITATE TO CONTACT US, IF YOU NEED ANY CLARIFICATION OR CONSULTATION RELATING OUR PRODUCTS.
Details
UPC 00850045943295
Quantity: 2 PCs 
Size: 2.32" x 1.29"
Bonus: 4 adhesive stickers, 8 screws, 10 silicone bumper pads