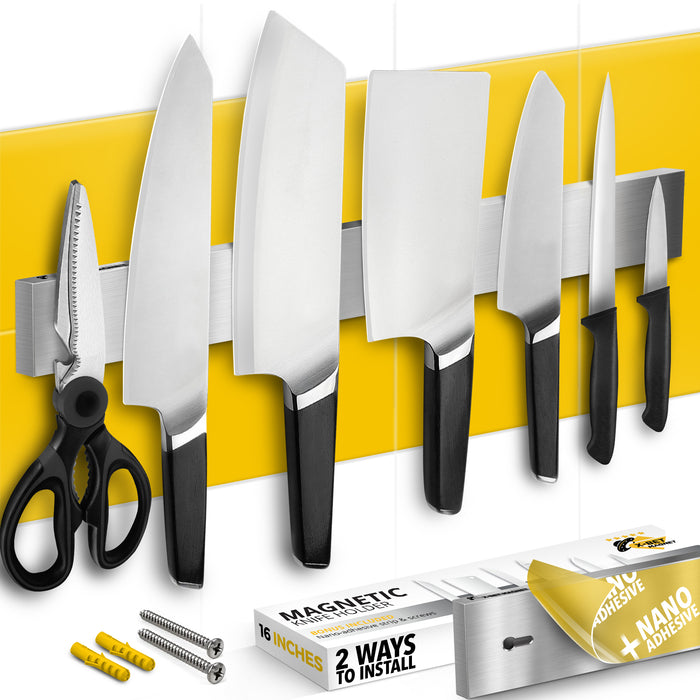 Magnetic Knife Holder - Knife Magnetic Strip with Adhesive 16" – Magnetic Knife Block Use as Kitchen Utensil Holder
Have been dreaming of an ideal organiser for utensils?
MORE
Check out our brand new Magnetic Knife Holder! Perfect solution for your needs!
This set includes practical bar knife rack magnet  and FREE BONUS reusable and waterproof strong adhesive nano tape and screws for easy installation.

It has just optimal dimensions for the everyday usage : 15.7" (40cm) x 1.9" (5cm) x 0.6" (1,5cm)
Stay assured in the high quality of X-bet MAGNET kitchen magnetic knife holder which satisfies ISO 9001 standards. Moreover this knife holder that can be used as utensils holder and organiser no screw is highly resistant to rust, corrosion and demagnetisation.
There are 2 ways of recommended installations:
With the use of nano tape. Simply peel and stick tape to the bar knife magnetic holder and apply on the need surface.  Sticky nano tape won't cause any damage, nor leave any stains. Applicable to plastic, smooth wood, glass, PVC, metal, concrete, tiles, etc. 
With the use of fasteners and screws. For a long-lasting hold we recommend to use screws we also included as a FREE BONUS that will hold up your magnetic knife block just  in place for a long time. 

You may perfectly adopt this Magnetic Knife Block for kitchen, home, garage and office usage. Utensil Holder, tool holder, magnetic knife holder for wall, tool organizer, kitchen utensil holder, knives bar, magnetic tool for garage, locker magnetic tool, magnetic knife block -all the and not only possible implementation of this holder.

Do not miss your time and organize your kitchen space.
X-bet MAGNET IS AN OFFICIALLY REGISTERED TRADEMARK AND RELIABLE BRAND. WE URGE YOU TO AVOID FORGERIES OF LOW QUALITY. 
REST ASSURED IN QUALITY OF THE MAGNETIC KNIE HOLDER YOU ARE USING. WE PROVIDE YOU WITH A GUARANTEE OF 100% REFUND IN CASE SOMETHING IS WRONG WITH THE PRODUCT!
IF YOU HAVE ANY QUESTIONS OR SUGGESTIONS RELATED TO THIS PRODUCT, PLEASE, FEEL FREE TO CONTACT US .
Details
UPC 00850045943318
Size: 15.7" (40cm) x 1.9" (5cm) x 0.6" (1,5cm)
FREE BONUS: adhesive nano tape and screws
Video