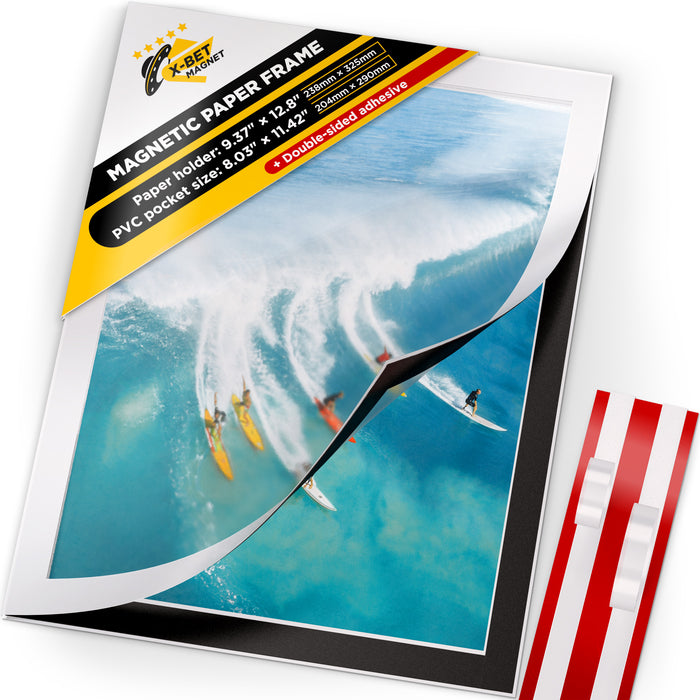 Magnetic Picture Frame - Self Adhesive Magnetic Display Frame for Office School Classroom Home - Magnetic Photo Pockets
Using our magnetic transparent picture frame you will keep your photos, documents, and signs in place and undamaged.
MORE
The X-bet MAGNET magnetic photo holders are just what you're looking for in order to keep any needed content in place and intact!
Magnetic poster frame measurements are 12.8" (32.5 cm) long, 9.4" (23.8 cm) wide, and 0.13" (3.4 mm) thick for each magnet frame. Both vertically and horizontally, magnetic photo frames function effectively. In the set you also get 4 PCs double-sided adhesive strips as an ADDITIONAL FREE BONUS.
For the magnetic photo frame, only premium quality materials are used. Strong magnet strips and transparent PVC cover will last for years! 
Flexible magnetic strips on the borders of the magnet picture frame keep contents firmly in place, and the translucent PVC cover protects photos, posters, and notes from sunshine or other harm. The magnetic sign holder is clear on both sides and can handle multiple sheets at once.
When and where to utilize it?
Peel and adhere Magnetic picture holder to flat surface, such as glass, metal, or plastic. Our magnetic frames are ideal for use in the classroom, office, school, or at home as wall decor or as a showcase frame.
Magnetic poster frame, magnetic display frame, photo card sleeves, magnetic picture frame for locker, magnetic photo pockets, picture frames for wall, magnetic sign holder, self-adhesive picture frames are just some of the uses for clear photo frames.
Magnet frames are suitable for photos, pictures, posters, artwork, notes, list, projects, documents, signs and so on.
How to apply?
Open the photo frame to insert the chosen photo.


Peel and stick adhesive strips to the Magnetic paper holder.


Adhere the magnetic display frame to the surface desired with double-sided adhesive strips.

Done! Perfect picture frame kit - quick and easy to assemble with no equipment required.
X-BET MAGNET PAYS TREMENDOUS ATTENTION TO EVERY DETAIL. ALL PRODUCTS ARE MADE WITH ADHERENCE TO INTERNATIONAL QUALITY STANDARDS WITH USE OF SOLELY ECO-FRIENDLY MATERIALS.
STAY ASSURED IN THE QUALITY OF THE PRODUCTS YOU PURCHASE. WE ALSO GUARANTEE YOU A FULL REFUND IF SOMETHING GOES WRONG WITH THE PRODUCT.
PLEASE DO NOT HESITATE TO CONTACT US IF YOU HAVE ANY QUESTIONS, SUGGESTIONS, OR NEED ANY ADDITIONAL INFORMATION. WE ARE ALWAYS READY TO ASSIST YOU.
Details
Quantity: 1 PCs
Size: 12.8" (32.5 cm) x 9.4" (23.8 cm) x 0.13" (3.4 mm)
Bonus: 4 PCs double-sided adhesive strips