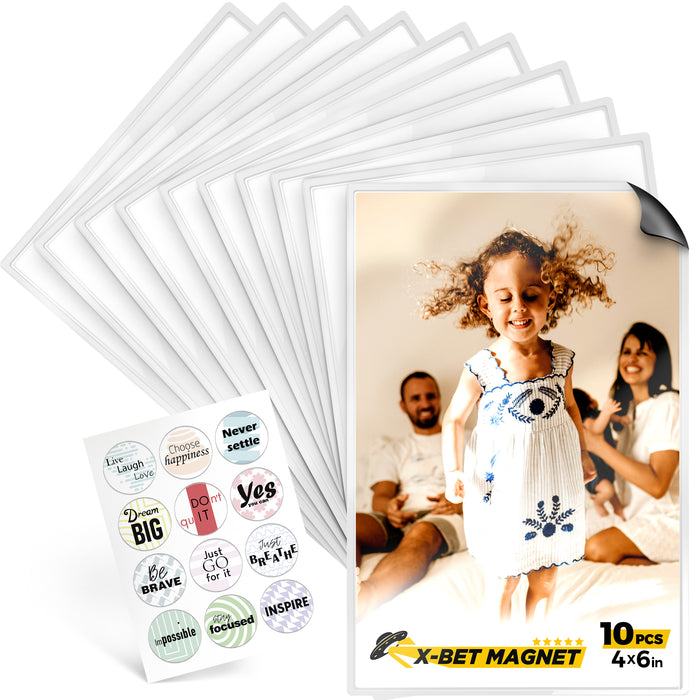 Magnetic Photo Frames for Refrigerator 10 PCs – Magnetic Picture Frames for Fridge 4" x 6" – Magnetic Photo Pockets
Want to keep your pictures intact and safe? Looking for something in order to protect your pics from fading?
MORE
X-bet MAGNET thought through your convenience and presents you new Magnetic Picture Frames! 

These Magnetic Picture Frames for Refrigerator with full magnetic backing is just for you. By purchasing this set you obtain 10 PCs magnetic picture frames with transparent clear PVC pocket and as ADDITIONAL FREE BONUS : 12 PCs cute motivational magnets that will perfectly as a piece of inspiration and decoration. Each magnetic sleeve has just optimal size :  4 inch (10cm) x 6 inch (15cm). 

Why X-bet MAGNET Photo Frames?

Our magnetic picture frames are full magnetic backing so they won't fall off or slide down.
They do not leave any stains or marks.
Your pictures will stay in place both in vertical and horizontal orientation due to the snug fir pocket.
Photos won't get distort due to the transparent clear PVC pocket.
Our pockets are UV and fluorescent lights protected so your pictures won't fade with time.  
By purchasing this set you get facility to create different collages and adopt them to your interior.
These photo pockets are multi usable since they don't  loose their magnetic power over time.  

Fields of appliance:

Great for House & Kitchen usage, Classrooms and Offices. You can also adopt them for creating Craft and DIY projects. 
Magnetic picture frames are applicable to all magnetic surfaces for example stainless steel, metal, in the household namely  fridge, micro oven, metal cabinets and shelves, washing machines. You may also apply them to magnetic whiteboards, lockers etc. 
Pin your notes and necessary documents, hold  your projects plan, layouts, messages, child's artworks and family pics.
KEEP IN MIND THAT X-bet MAGNET IS A REGISTERED TRADEMARK AND RELIABLE BRAND. ALL OUR PRODUCTS ARE ADJUSTED TO THE NECESSARY INTERNATIONAL STANDARDS, SO AVAID CHEAP FAKES TO PROTECT YOURSELF FROM DEFECTIVE PRODUCTS. WE GIVE YOU GUARANTEE OF 100% REFUND IF SOMETHING  IS WRONG WITH OUR PRODUCT!
PLEASE CONTACT US IF YOU HAVE ANY QUESTIONS OR SUGGESTIONS.
Details
UPC: 00850045943240
Quantity: 10 PCs
Size:  4" x 6" (10 cm x 15 cm)

FREE BONUS : 12 PCs motivational magnets
Video