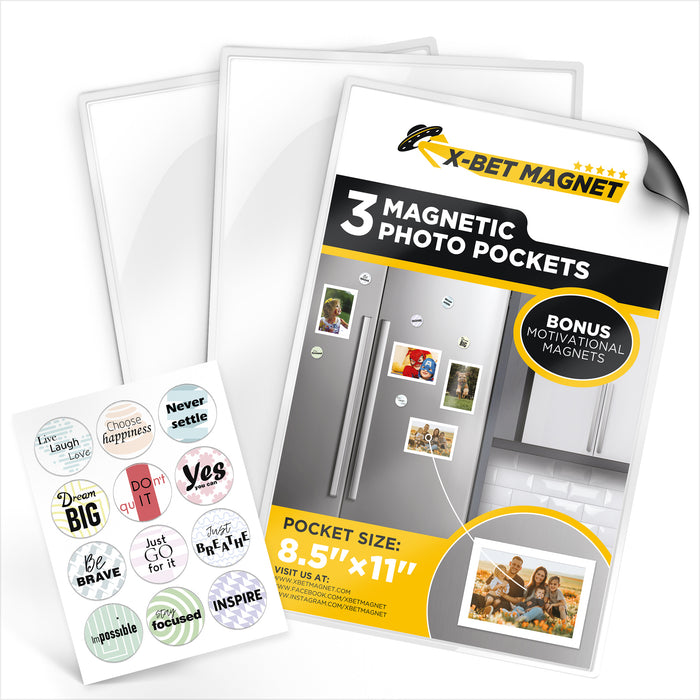 Magnetic Photo Frames for Refrigerator 3 PCs – Magnetic Picture Frames for Fridge 8.5" x 11" – Magnetic Photo Pockets
From now on all your pictures, poster and your child`s drawings will be safely hanging in the Magnetic Picture Frames safe from damage and fading!
MORE
X-bet MAGNET always thinks through every detail for your convenience! Now we made Magnetic Picture Frames of a bigger size, so you can hang up not only pictures, but different posters and drawings.
Apart from the set of 3 PCs Magnetic Photo Pockets that are made out clear PVC material and have full magnetic backing, which assures better holding characteristics, you also get 12 PCs inspirational magnets as FREE BONUS, that you can apply to any kind magnetic surface. All Magnetic Pockets are of the same size: 8.5" ( 20 cm)  x 11" ( 28 cm).
What are advantages of the X-bet MAGNET Picture Frames?
X-bet MAGNET Magnetic Picture Frames are prevented from sliding down due to the presence of full magnetic backing.
Our Picture Pockets in no way leave any marks or stains.
Thanks to the snug fit pocket whatever you insert in the pocket. it will stay in place and do not fall out both in horizontal and vertical orientation of the frame.
Due to the clear and transparent PVC material used, the pictures won`t get distorted.
Each pocket is equipped with the UV protection so the colors won`t fade and will be kept vivid as they have been primarily.  
Due to the size and amount of PCs in the set you will be able to create your own collage with similar pictures, or a collage of your family pictures.
You may stay assured that these Magnetic Pictures Frames will serve you for a lifetime since they do not loose their magnetic power.
Ways of appliance:
You might easily apply them to any magnetic surfaces and always keep the needed notes, pictures and drawing in sight, for example on metal and stainless steel. At home they are widely used on refrigerators, metal cabinets, drawers and shelves.  They might be also applied on all kinds of magnetic whiteboards.
As an option you may also adopt them for creating some DIY projects and so on.
Hang up your documents, notes, reminders, child`s drawings, different to-do lists, messages and plans somewhere in sight, so you definitely won`t forget anything.
Remember of ADDITIONAL GIFT INCLUDED: 12 PCs Inspirational Magnets.
WE WOULD LIKE TO HIGHLIGHT THAT WE AN OFCIIALY REGISTERED BRAND THAT WHILE MANUFACTURING ADHERES TO ALL THE INTERNATIONAL STANDARDS AND PROVIDES OUR CUSTOMERS ONLY WITH HIGH-QUALITY PRODUCTS. WE URGE TO AVOID FAKES IN ORDER TO GET QUALITATIVE PRODUCTS THAT WILL SERVE YOU FOR A LONG TIME.
MOREOVER WE GUARANTEE YOU A FULL REFUND IN CASE SOMETHING HAPPENS WITH OUR PRODUCTS OT THERE ARE ANY ISSUES.
PLEASE LET US KNOW IF THERE ARE ANY QUESTIONS OR ISSUES WITH OUR PRODUCTS.
Details
UPC: 00850045943301
Quantity: 10 PCs
Size:  8.5" x 11" (20 cm x 28 cm).

FREE BONUS : 12 PCs motivational magnets