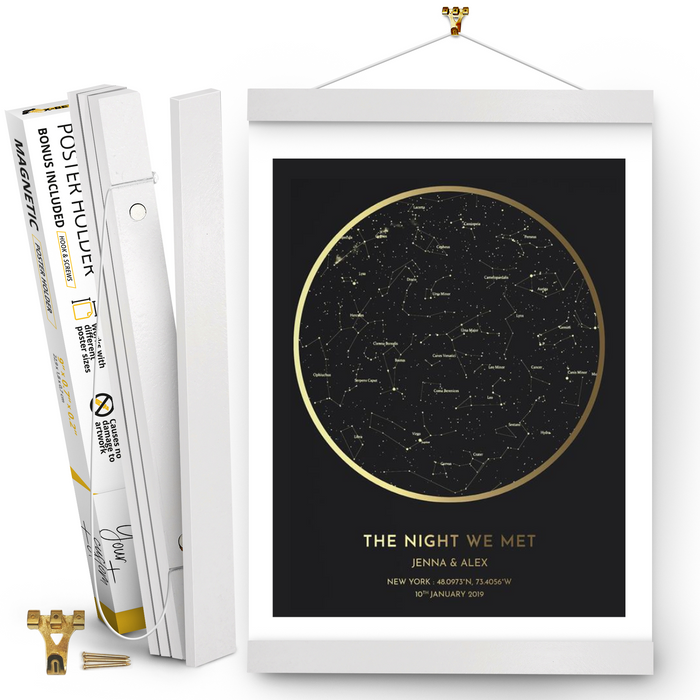 Magnetic Poster Frame Hanger 9" – Magnetic Picture Frame White – Wood Poster Holder
Worried that your favorite poster might get damaged? Afraid of scratching or tearing your poster?
MORE
Use magnetic poster frame hanger by X-bet MAGNET to help keep your favorite items intact.
The product is ideal for hanging pictures, paintings, photos, maps, and drawings.
This wall magnetic poster frame hanger set consists of 4 PCs wood poster holder ( 9 inch). As FREE Bonus to the set were included screws and hook. They will help you to install magnetic picture frame without any difficulties.
Length - 9 inch, width – 0,7 inch, high – 0,2 inch.  Due to its dimension, it is easy to use poster/picture/photo of different sizes such as: 9x9 9x11 9x12 8x8 8x10 8x11 8x12 8x14
Thanks to the strong magnetic force of the n52 neodymium magnet, magnetic poster hanger frame can hang up objects of various weights.
The installation will not take long time. Everything you need is included to the set.  All  required is:
Your favorite pic

wooden picture frame

30 seconds of your time for installation.

Magnetic picture frame can be used in different fields of your household and works space: Office, Classroom, Garage, Kitchen, School projects, DIY and Craft projects.
Stop storing your favorite photos and paintings in a closet or on shelves. Set up a digital picture frame and cheer yourself up every time you look at the wooden picture frames. The magnetic poster hanger will not only elate you and people around you, but also perfectly decorate the interior.
As a FREE BONUS hook & screws were added to the set!
X-bet MAGNET IS A REGISTERED TRADEMARK – CHOOSE QUALITY PICTURE FRAME COLLAGE AND AVOID CHEAP FAKES.
REST ASSURED IN QUALITY OF THE LARGE POSTER HOLDER YOU ARE USING. WE GIVE YOU A 100% GUARANTEE THAT IF ANYTHING IS WRONG – YOU WILL GET YOUR MONEY BACK!
PLEASE, FEEL FREE TO CONTACT US IF YOU HAVE ANY QUESTIONS OR SUGGESTIONS RELATED TO THIS PRODUCT.
Details
Size: 9 inch (22,86cm) x 0,7 inch (1,8cm) x 0,2 inch (0,7cm)
FREE BONUS : hook & screws