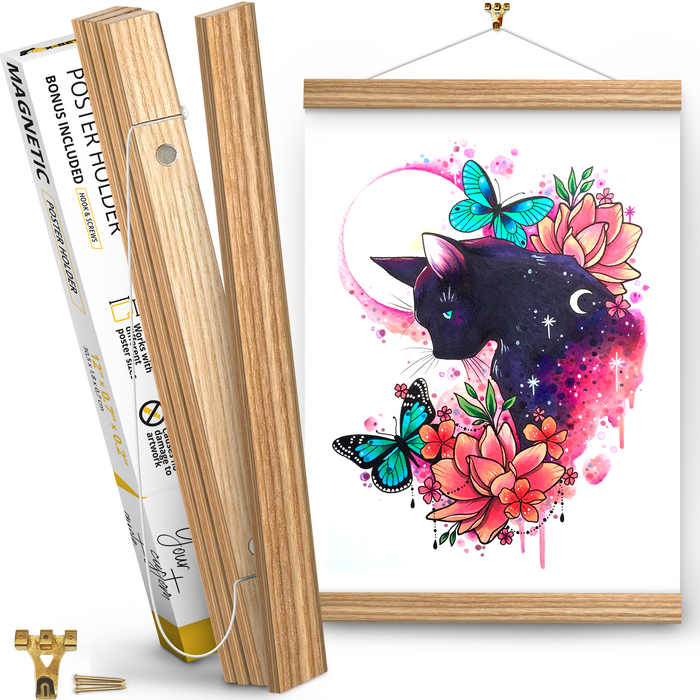 Magnetic Poster Hanger Frame 12" – Magnetic Hanging Frame Ash Wood – Poster Holder for Pictures, Photos, Prints, Maps and Canvas Artwork
Still postponing buying a frame and installing it? Your family pictures, art canvas and posters from vacation are still kept in shelves?

MORE
Fix it with new X-bet MAGNET Magnetic Poster Holders!

We are always striving to make your life easier and to reduce your efforts. That is why we figured out new Magnetic Picture Holder of modern versatile minimalistic design of ash wood color and optimal holding power. Picture Frames measures : 12 inch (30,5cm) x 0,7 inch (1,8cm) x 0,2 inch (0,7cm) perfectly matches with for 11x14 11x17 12x12 12x16 12x18 12x24 12x36 canvas. Besides for 4 PCs Magnetic Hanging Frame set includes FREE EXTRA BONUS: hook& screw for convenient installation.

What are advantages of these Magnetic Poster Holder:

Applicable to various sizes of posters, since has practical  sizes.
Greatly compliment any interior, as has modern design of the wooden poster holder in ash wood color. 
Since the screws and hook are included as a FREE BONUS, the process of installation won't take up much time. 
Extremely quick and easy picture changing process.
Since in the holder inserted neodymium n52 magnets, there is no need to worry that your picture will slide down. Such magnets provide optimal holding power for the picture to stay well in place. 
Inserted neodymium magnets aren't exposed to demagnetisation, so do not loose their magnetic power with time. So the poster holder can be used over and over again.  
Note, that magnets are sturdy enough for primarily purposes, holding canvas, pictures, photos, scrolls, etc. 
Just like the rest of our products, these magnetic picture frame is manufactured out of non-toxic, eco-friendly materials with abidance to all the international quality standards.
There are lots of usage ways:
Due to its extremely versatile design and color it wold greatly fit in any interior. Since it is really easy to change pictures you can add new details to the appearance of your room constantly. Classroom, Kitchen, Living room, Garage, Home, Office - these and not only possible fields of usage. Also due to its well designed packaging theis Magnetic Poster Holder is also a great varian to be presented as a gift. Such magnetic picture frames are used as wooden picture frame, hanging poster frames, poster frames, large poster holder for wall, file folder frame,  picture frame collage, family picture frame, maps holder, art canvas holder, personal painting frames. 
X-bet MAGNET IS AN OFFICIALLY REGISTERED TRADEMARK AND A RELIABLE BRAND.  WE RECOMMEND TO AVOID LOW QUALITY and CHEAP FAKES IN ORDER TO OBTAIN ONLY WELL MANUFACTURED PRODUCTS.
STAY ASSURED IN A HIGH QUALITY OF MAGNETIC PICTURE FRAMES DUE TO THE ADHERENCE TO THE INTERNATIONAL STANDARDS OF QUALITY. THERE IS 100% GUARANTEE OF FULL AMOUNT REFUND IF ANY ISSUES ARISING WITH THE PRODUCT! PLEASE, FEEL FREE TO CONTACT US IF YIU NEED ANY KIND OF ASSISTANCE.
Details

Size: 12 inch (30,5cm) x 0,7 inch (1,8cm) x 0,2 inch (0,7cm)
Color: Ash Wood
FREE BONUS: hook & screws