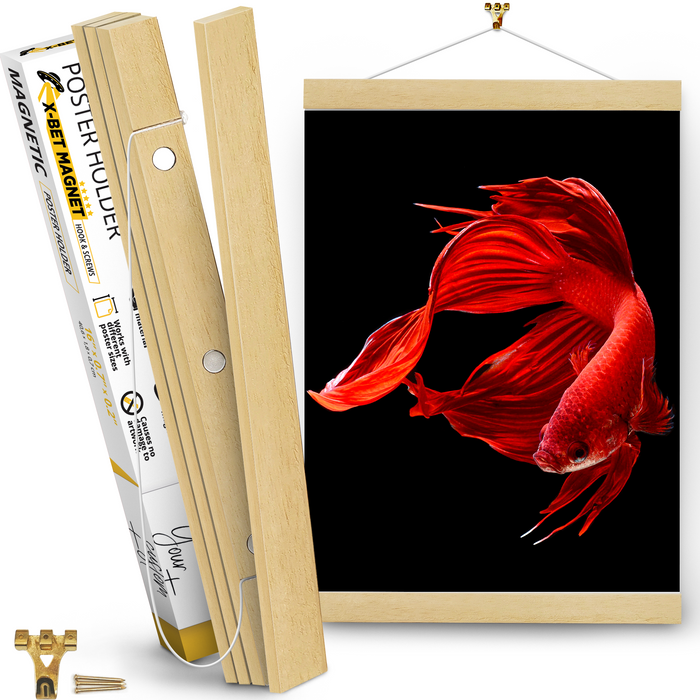 Magnetic Poster Hanger Frame 16" – White Wood Magnetic Poster Frame – Magnet Picture Frame
Do you have favorite posters and pictures that you want to hang on the wall? Can't do this because of laziness? Don't be like coach potato.
MORE
The magnetic poster hanger frame set by X-bet MAGNET has everything required for installation. All you need is 30 seconds of your time and magnetic picture frame set.
Picture hanger is perfect for any visualization of creative works: CANVAS artwork, Pinterest pictures, posters, big family photos, and kid's artworks.
Due to practical wooden picture frame dimensions (Length: 16 inch, Width: 0,7 inch, High: 0,2 inch), different poster's sizes are suitable for installation - 16x12 16x16 16x20 16x24 17x11 17x22 17x24
The wood picture frames set has excellent magnetic strength thanks to the n52 neodymium magnet and will last you a long time. This feature contributes to long-term use and provides the ability to hang up posters of various weights.
The set contains of 4 PCs wooden picture frames ( 16 inch each). To make it easier for you to install, a hook &screws FREE BONUS has been included in the kit.
Here are 3 simple steps for installation:
Pick poster you want to hang up

Open the package

Use all set's items to install a favorite picture
Now, you have your fav poster in sight without having to spend a lot of money for the installation and framework.
Magnetic poster hanger frame can be used in different fields such as work space, household, school, office, kitchen, DIY-projects, craft-project.
Expand your imagination and use wall picture holder for all your needs! Make your own poster collection using picture frame collage!
As a FREE BONUS hook & screws were included to the set!
X-bet MAGNET IS A REGISTERED TRADEMARK – CHOOSE QUALITY HANGING FILE FOLDER FRAME AND AVOID CHEAP FAKES.
REST ASSURED IN QUALITY OF THE WALL PICTURE HANGER YOU ARE USING. WE GIVE YOU A 100% GUARANTEE THAT IF ANYTHING IS WRONG – YOU WILL GET YOUR MONEY BACK!
PLEASE, FEEL FREE TO CONTACT US IF YOU HAVE ANY QUESTIONS OR SUGGESTIONS RELATED TO THIS PRODUCT.

Details
Size: 16 inch (40,6cm) x 0,7 inch (1,8cm) x 0,2 inch (0,7cm)
FREE BONUS : hook & screws
Video