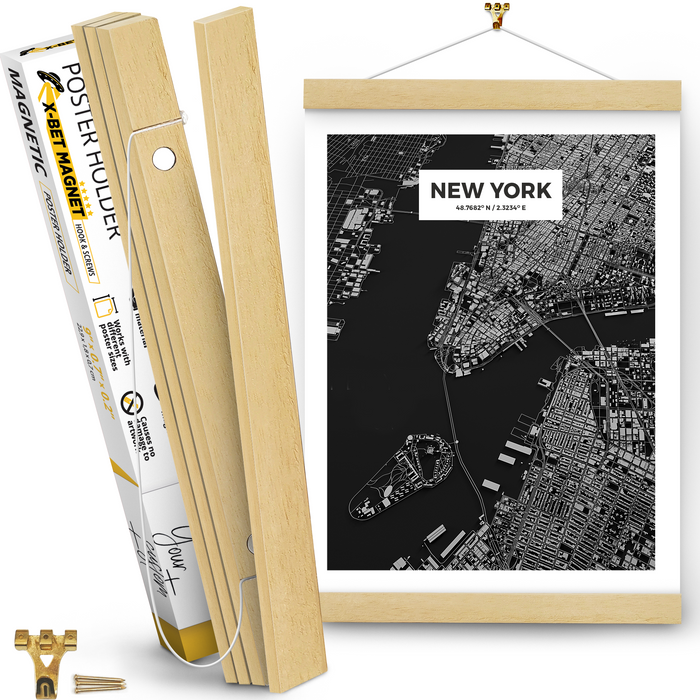 Magnetic Poster Hanger Frame 9" – Magnet Picture Frame White Wood – Poster Holder for Pictures
Tired of empty walls? Can't look at the white wallpaper anymore? Have been wondering for a long time how to decorate your interior and add new colors?
MORE
Time to get your favorite posters, pictures, paintings from the shelves and decorate boring walls. Magnetic poster hanger by X-bet MAGNET will help you with this.
Wall magnetic poster hanger frame is suitable for all your favorite pinterest pics, canvas artworks, maps, even scrolls. Whatever is attracting your attention can be hanged up with magnet picture frame white wood.
In the magnet picture frame white wood set besides 4 PCs magnetic picture frame, was included special FREE BONUS (hook and screws). These additional items will help you finish the wooden picture frames installation for 30 seconds.
Its dimensions are: Length – 9 inch, width – 1,5 inch, high – 0,16 inch. Picture holder for wall perfectly holds any type of paper with variety of sizes:  9x9 9x11 9x12 8x8 8x10 8x11 8x12 8x14.
Combination of poster holder for wall with n52 neodymium magnets gives in a result strong enough item for hanging up pictures of different weights.
Garnish your working and home spaces with hanging file folder frame. Flawless for Kitchen, Classrooms, Office, different school projects, DIY and Craft projects.
It is ideal solution for using magnetic poster hanger frame as large poster holder, hanging picture frames, picture frame collage, wall picture holder.
Thanks to high quality materials, magnetic poster hanger will not lose their strength over time. Theywillserveyouforalongtime.
As a FREE BONUS hook & screws were included to the set!
X-bet MAGNET IS A REGISTERED TRADEMARK – CHOOSE QUALITY PICTURE FRAMES FOR WALL AND AVOID CHEAP FAKES.
REST ASSURED IN QUALITY OF THE WALL PICTURE HOLDER YOU ARE USING. WE GIVE YOU A 100% GUARANTEE THAT IF ANYTHING IS WRONG – YOU WILL GET YOUR MONEY BACK!
PLEASE, FEEL FREE TO CONTACT US IF YOU HAVE ANY QUESTIONS OR SUGGESTIONS RELATED TO THIS PRODUCT.
Details
Size: 9 inch (22,86cm) x 0,7 inch (1,8cm) x 0,2 inch (0,7cm)
FREE BONUS : hook & screws