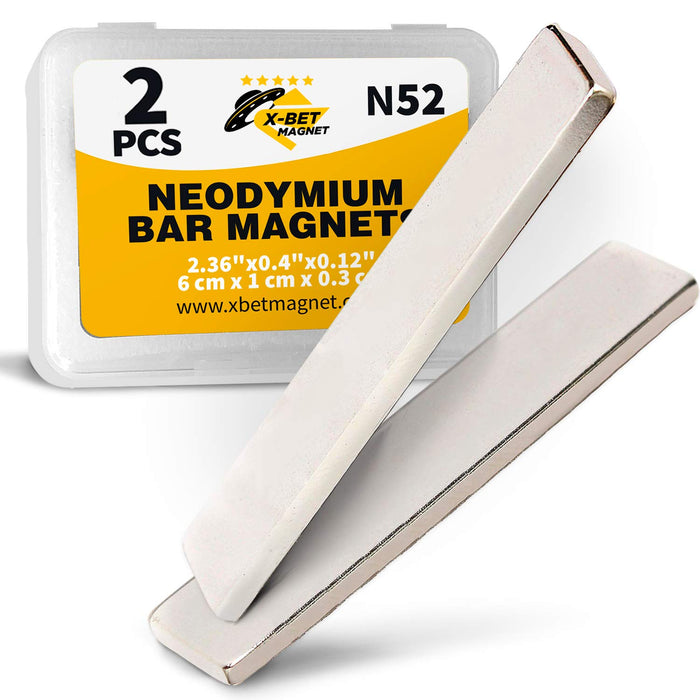 Neodymium Bar Magnets - Rare Earth Magnets Super Strong - N52 Grade (Ndfeb) - 2 Block Magnets in Box UK
Do you need a strong powerful magnet that can be used not only for industrial purposes but also at home?
MORE
At X-bet MAGNET, we launched super strong №52 Neodymium magnets. They are one of the most powerful magnets available on the market and are often referred to as Rare Earth Magnets.
Firstly, let's find out the main benefits of the Neo Bar Magnets:
NdFeb (neodymium-iron-boron) magnets have high resistance to demagnetization.

Thanks to nickel-copper-nickel triple layer Super Strong Rare Earth Magnets are protected from corrosion and oxidation.
Secondly, let's analyze the technical characteristics of NIB:
Practical Dimensions: 2.36" x 0.4" x 0.12" (6 cm x 1 cm x 0,3 cm)

The neodymium magnet has strong magnetic force - 13200 Gauss. These magnets are great alternative to ceramic magnets or ferrite magnets, if you would like to get better and stronger holding results – Neodymium magnets are the way to go!

Max Operating Temperature: 80°C/176°F
Thirdly, let's explore a wide range of applications:
In various fields: Industrial Equipment, Home Improvement, Automotive, Garage, Science Projects, Education

Neodymium magnets small can be used for creative kid projects, magnets for whiteboard, office organization, science project, homeschooling, and more.
Please make sure you are aware of how to safely separate Neodymium magnets. You will need to slide the top magnet and carefully start lifting it. Watch your fingers!
Be cautious:

These 2 block magnets are fragile and they can be damaged in the case of incorrect use. 
Warning!
Keep your kids under 5 years old away from the magnets neodymium.  
X-bet MAGNET IS A REGISTERED TRADEMARK – CHOOSE QUALITY NEODYMIUM BAR MAGNETS AND AVOID CHEAP FAKES.
REST ASSURED IN QUALITY OF THE NEODYMIUM DISC MAGNETS YOU ARE USING. WE GIVE YOU A 100% GUARANTEE THAT IF ANYTHING IS WRONG – YOU WILL GET YOUR MONEY BACK!
PLEASE, FEEL FREE TO CONTACT US IF YOU HAVE ANY QUESTIONS OR SUGGESTIONS RELATED TO THIS PRODUCT.
Details
Quantity: 2 PCs
Size:  2.36" x 0.4" x 0.12" (6 cm x 1 cm x 0,3 cm)
Magnetic Force: 13200 Gauss
UPC 00850045943448
Video