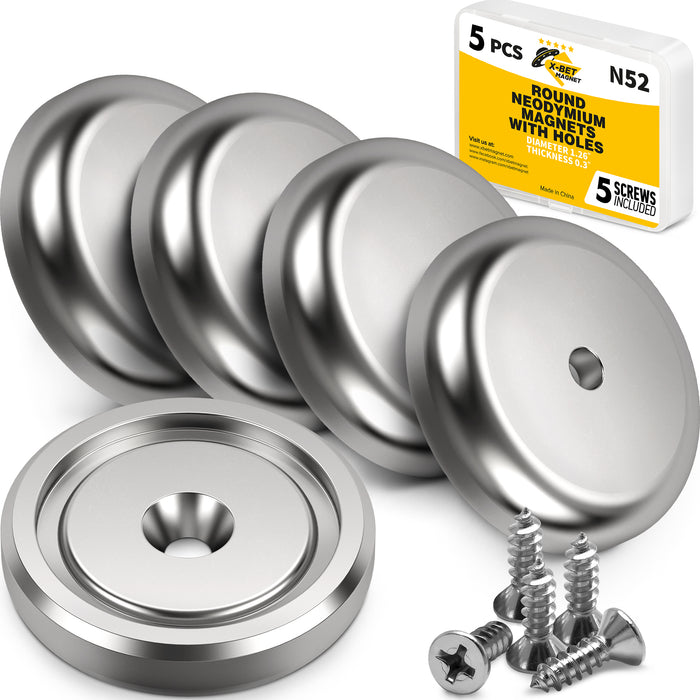 Neodymium Disc Countersunk Hole Magnets 5 PCs - Strong, Permanent, Rare Earth Magnets
Need something stronger than ordinary magnets that do not hold up much?

MORE

We have figured it out for you! Extremely strong neodymium magnets with holes is the best solution for you and your needs.

Disc Countersunk Hole Magnets intend to be used for various needs. In this set, besides for 5 PCs strong neodymium magnets with holes, you get FREE ADDITIONAL BONUS : 5 PCs mounting screws that can be easily applied to the needed surface. This simplifies the whole process of installation since the magnets already have hole that matches with #10 screws. Neodymium magnets made up for attaching and holding heavy object with magnetic characteristics have just optimal size : 1.26" (32mm) x 0.31" (8mm) and possess great holding force that reaches about 66 LB (30 kilograms).
Why to choose these Magnets:

In addition to 5 PСs strong rare earth magnets you also gain 5 PCs matching mounting screws, that expands the range of possible usage, so you can stick them even to non-magnetic surfaces and they will stay in place well, also great for securing 2 objects through your surface.
The magnets are coated with 3 stratums (nickel, copper and nickel) thus protecting the magnets themselves from external affects.
The magnets are highly resistant to oxidation, corrosion and even thermal stress, but keep in mind that the maximum operation temperature is 80C/176F.
Just like all other X-bet MAGNET products are manufactured within adherence to the international standards of quality, including ISO 9001.
North and South poles of Magnet are situated on the opposite sides.
They do not loose their magnetism since they are also resistant to demagnetisation.

Due to such high holding force they would perfectly serve for lots of purposes. If there are any objects you are constantly using, that would a be a great variant for keeping them in sight and organised in the same place. Holding heavy objects is the exact job for these magnets. The usage of this magnets includes holding, organising, attaching and hanging heavy objets. These are great helpers for Home and Garage organising, as well as for industrial usage.

X-BET MAGNET IS A RELIABLE BRAND AND OFFICIALLY REGISTERED TRADEMARK. WE RECOMMEND TO AVOID CHEAP FAKES THUS YOU WILL OBTAIN ONLY WELL MANUFACTURED PRODUCTS. BE ASSURED IN THE QUALITY OF OUR PRODUCTS SINCE ALL OUR PRODUCTS ARE PRODUCED UNDER INTERNATIONAL STANDARDS OF QUALITY. WE GIVE YOU A 100% GUARANTEE OF FULL REFUND IN CASE SOMETHING IS WRONG WITH THE PRODUCT. PLEASE LET US KNOW AND FEEL FREE TO CONTACT US IN CASE OF ANY NEED.


Details


Quantity: 5 PCs

Size: 1.26" (32mm) x 0.31" (8mm)

Holding force: 66 LB (30 kilograms)

FREE BONUS : 5 Pcs Screws
Video