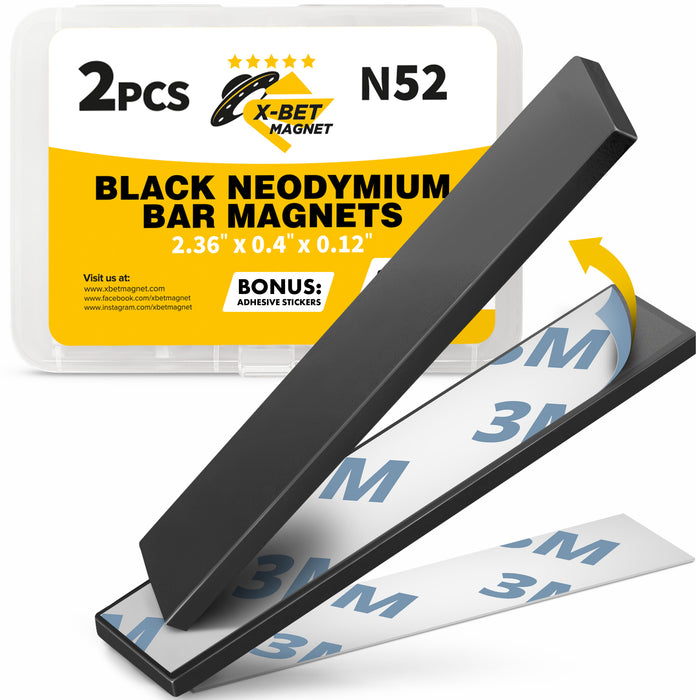 Powerful N52 Neodymium Magnet - Neodymium Bar Magnets with Adhesive Backing – Heavy Duty N52 Rare Earth Magnets with Epoxy Coating
Looking for multifunctional strong and powerful practical magnets? Guess what! We have something for you!
MORE
X-bet MAGNET always spend a great amount of time and endeavours conducting researches and investigations in order to produce the best the best for our customers. And our rare earth block magnets with adhesive stickers isn't an exception.
What are the advantages of the Neo Bar Magnets?
First of all:
N52 rare earth magnets with epoxy coating have high level resistance to demagnetization.

Due to the materials used during manufacturing, you don't have to worry that these Heavy Duty N52 Rare Earth MagnetsThanks will be exposed to corrosion or oxidation.
Secondly, take a look at technical characteristics of Powerful N52 Neodymium Magnet:
Optimal size: 2.36" (60mm) x 0.4" (10mm) x 0.12" (3mm).

The neodymium magnet has strong magnetic force - 13200 Gauss.

Holding force of each magnet is about 22 LB (10 kilograms).

Max Recommended Operation Temperature is up to 80C/176F.

Presence of a strong holding adhesive backing.
Thirdly you shall take into account a great variety of usage:
Neo magnets with epoxy coating are widely used as Kitchen and Office magnets, magnets for  DIY, craft and project magnets.

Neodymium magnets fit well as whiteboard magnets, Industrial magnets, Hobby magnets, Garage magnets and so on.
Note!
It is extremely important to separate Neodymium magnets properly as due to the nature of their material, they can be damaged in the case of incorrect use. Firstly you need to slide the top magnet and then carefully lift it. Be cautious  and watch out your fingers!
Warning!
Children under 5 years old shall be kept away from the  neodymium magnets.
X-bet MAGNET IS AN OFFICIALLY REGISTERED TRADEMARK.
REST ASSURED IN A HIGH QUALITY OF THE NEODYMIUM MAGNETS YOU ARE TO USE. WE PROVIDE YOU WITH A 100% GUARANTEE IN CASE ANYTHING GOES WRONG – WE WILL GET YOU A FULL REFUND!
PLEASE, DON T HESITATE TO CONTACT US IF YOU HAVE ANY QUESTIONS OR REGARDING OUR PRODUCTS.
Details
UPC: 00850045943257
Quantity: 2 PCs
Size:  2.36" x 0.4" x 0.12" (6 cm x 1 cm x 0,3 cm)
Magnetic Force: 13200 Gauss
Holding force: 2 LB (10 kilograms)
Video