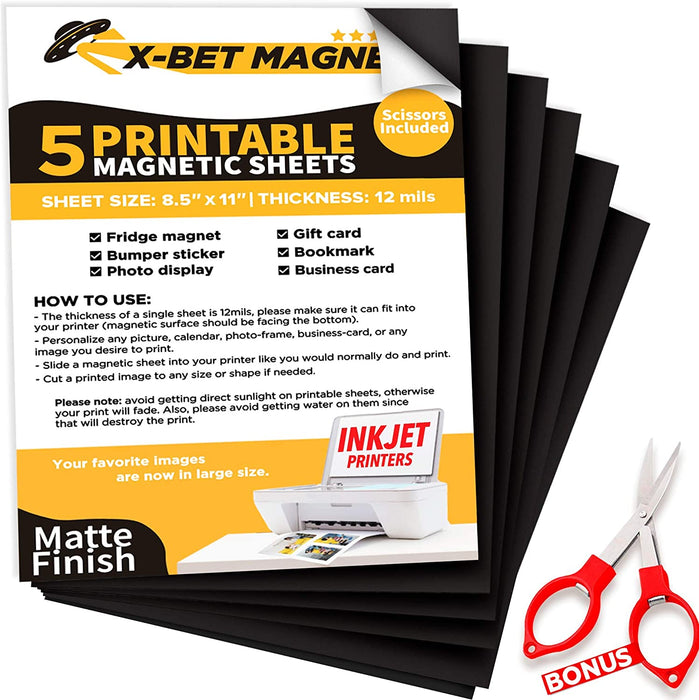 Printable Magnetic Sheets - Flexible Magnet Sheets Non Adhesive - Matte Printable Magnetic Paper - 5 PCs
Have you ever dreamed of Printable Magnetic Sheets?
Wanted simply print photo and attach it to any metal surface without any complications?
MORE
We've got you covered with X-bet MAGNET Refrigerator Inkjet Photo Magnetic Sheets.
Practical Printable Magnetic Paper Dimensions: 8.5" x 11" x 12 mils (21 cm x 28 cm x 0,3 mm).  Printable Fabric Sheets have 250 Gauss.
Rest assured in the premium quality of X-bet MAGNET non adhesive magnetic sheets which comply with ISO 9001 standards.
Recommended application:
Print an image you have chosen before on the flexible magnetic sheet.

Trim the image with the pair of scissors to the desired size ( if needed)

Attach the chosen image to the metal surface.
Use flexible printer magnet sheets non adhesive backing in various fields you need: Kitchen, Office Supplies, Art Projects, Presentation Supplies, Home Decoration, DIY, Classroom, Homeschooling.
You can use these printable sheets for all sorts of purposes: as photo magnets, decorative magnets, printable stickers, magnets for fridge, printable cards, funny car magnets, letter magnets, printable tags, matte magnetic paper for wall, flexible magnetic sheets, flexible printable magnets, magnetic picture clips, inkjet magnetic paper for photo, printable postcards, fridge magnets cute, printable fabric sheets for inkjet printers, blank car magnets, magnetized dots, picture magnet sheets, craft projects for adults, and more.
Make photo magnets with your favorite views, loved artist, friends, and any inspirational pics you've found on Pinterest. Perfect to print note, photo, menu, postcards, artwork, recipes, etc. Expand your imagination and use them as your heart wishes. For more creative ideas and uses check out our product images.
As a FREE BONUS to this product – Scissors are included in the set!
X-bet MAGNET IS A REGISTERED TRADEMARK – CHOOSE MATTE PRINTABLE MAGNETIC PAPER AND AVOID CHEAP FAKES.
REST ASSURED IN QUALITY OF THE PRINTABLE MAGNETIC SHEETS YOU ARE USING. WE GIVE YOU A 100% GUARANTEE THAT IF ANYTHING IS WRONG – YOU WILL GET YOUR MONEY BACK!
PLEASE, FEEL FREE TO CONTACT US IF YOU HAVE ANY QUESTIONS OR SUGGESTIONS RELATED TO THIS PRODUCT.
Details
Quantity: 5 PCs
Size:  8.5" x 11" x 12 mils (12 cm x 28 cm x 0,3 mm)
Magnetic Force: 250 Gauss
UPC 850045943493