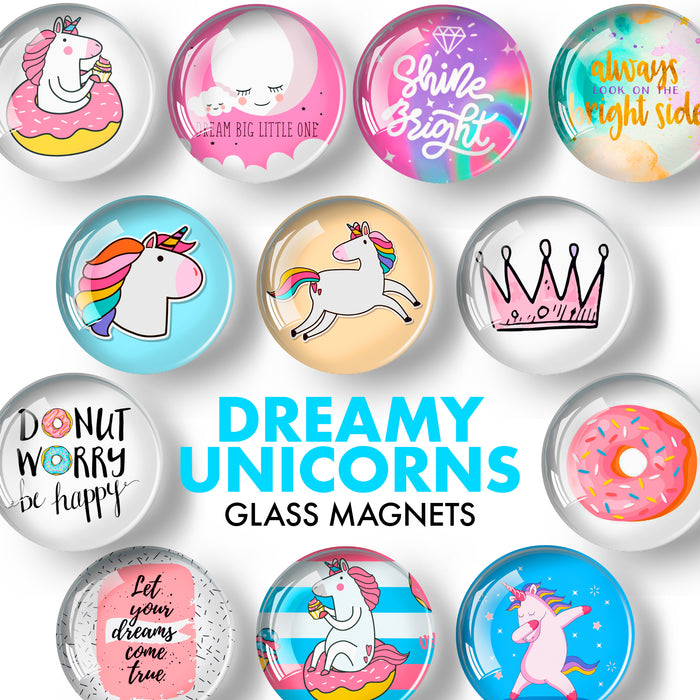 Unicorn Magnets for Fridge – Glass Decorative Magnets for Refrigerator 12 PCs – Funny Refrigerator Magnets for Kitchen and Whiteboard
Unicorns! Create unicorn universe just on your fridge!
Additional Description
Want to adore your child? Unicorns are the top wanted character among children. Cute, nice and sweet! What else needed?
Purchasing this set you obtain:
 12 PCs round funny unicorn magnets of reasonable measures: 1.3'' (3,3 cm) x 0.38'' (10 mm). 
As an ADDITIONAL FREE GIFT you get 12 PCs Stickers with unicorns! 
While manufacturing we use solely premium materials, so all our products adhere to 9001 ISO standards. 
Quite durable magnets that won't loose their magnetic power and as a result get weaker with time. 
Since our magnets do not leave any marks, you get an intact surface.
Nice decoration both for home and office space.
The sense of tenderness every time you see the magnets. 
Family photos, written notes, needed documents, holiday pictures, postal cards, artwork of your child, motivational pics, check lists are easily held by this glass magnetic set. 

Usage variety:

Together with your child you can make  DIYs and different Craft tasks, improve your organization at Home and Kitchen . 
As an alternative you can simply apply them to any magnetic surface and it will serve you as a perfect decoration.  
They would perfectly fit for usage as school and office magnets,  magnets for crafting and sure thing extremely cute magnets for fridge.
| | | | |
| --- | --- | --- | --- |
| Glass Surface | High-Strength Magnets | Full Magnetic Backing | Serves as a Perfect Gift |
You can check out the whole variety of designs in our store: Glass Inspirational Magnets, Cat Decorative Magnets, Art Magnets, Fridge Magnets Funny Dogs, Dinosaur Magnets for Fridge, Planets Magnets for Fridge, Cute Butterfly Magnets, Funny Pinup Magnets, Dinosaur Magnets, Fridge Magnets Cute Cities, Decorative Magnets for Fridge Dogs and other Glass Magnets. 

BEAR IN MIND THAT X-bet MAGNET IS A REGISTERED TRADEMARK – BETTER PREFER VERIFIED MANUFACTURER  AND REFRAIN FROM CHEAP ANALOGUES.

BE SURE THAT YOU GET A FULL PAY BACK IN CASE SOMETHING GOES WRONG WITH THE PRODUCT!
PLEASE, FEEL FREE TO CONTACT WITH ANY QUESTIONS.
 Details
UPC 00850045943202
Quantity: 12 PCs
Size:  1.3'' (3,3 cm) x 0.38'' (10 mm)
Free Bonus: 12 PCs Stickers 
UPC 00850045943202