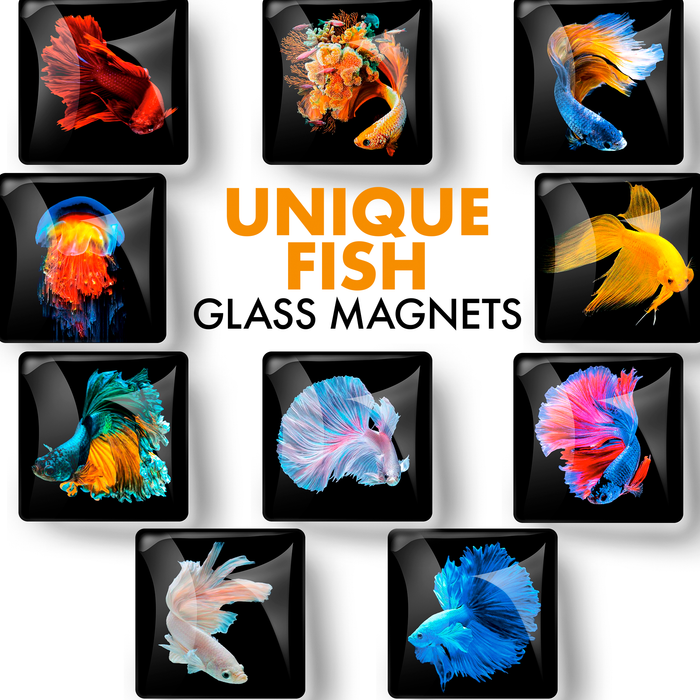 Unique Fish – Glass Refrigerator Magnets 10 PCs – Funny Fridge Magnets for Kitchen, Office and Whiteboard
Rare species of fish jellyfish and other underwater inhabitants just on your fridge! Sound intriguing!
Additional Description
Get inspired by mystery of underwater life? This set of glass decorative magnets is just for you!Just check it out and you will love it from the first glance.
 First of all they have extremely practical sizes: 1.3'' (3,3 cm) x 0.38'' (10 mm). In order to produce these square decorative magnets  we are using only hight quality materials so all our products adhere to the 9001 ISO  standards. Stay issued that they won`t get weaker. You also don`t have to worry that the magnets will somehow damage your surfaces or leave any marks, since our decorative magnets  have smooth and non-damaging backing. 
These magnets are used not only for decorative purposes , organizational one as well. They will help to keep your space tidy and organized. Holding  family photos, necessary notes, documents, small banners, pictures, postcards, kid's artwork, Pinterest images, menu, recipes, to do lists, and so much more.
Ideas of usage:
At Home,

 

for education and science, Craft and DIY project, Office, Kitchen, etc.
Get your office whiteboards, school, refrigerator, cabinet, and classroom decorated with the use of these magnets, organize home and work space.

 
Due to its pretty- designed packaging, this set of Unique Fish magnets will reeve as a perfect gift!

| | | | |
| --- | --- | --- | --- |
| Glass Surface | High-Strength Magnets | Full Magnetic Backing | High-Strength Magnets |
As a FREE BONUS to this set you get 12 PCs Vivid Stickers with the same design as magnets! I They will perfectly serve to compliment your laptop or notebook.

You can check out the whole variety of designs in our store: Glass Inspirational Magnets, Cat Decorative Magnets, Art Magnets, Fridge Magnets Funny Dogs, Dinosaur Magnets for Fridge, Planets Magnets for Fridge, Funny Pinup Magnets, Dinosaur Magnets, Fridge Magnets Cute Cities, Decorative Magnets for Fridge Dogs and other Glass Magnets.

WE WANT TO DRAW YOUR ATTENTION TO THE FACT THAT X-bet MAGNET IS A VERIFIED BRAND SO YOU MAY REST ASSURED IN QUALITY OF OUR PRODUCTS. WE GUARANTEE YOU A FULL REFUND IF THERE ARE ANY PROBLEMS WITH THE PRODUCT. CONTACT US IF THERE ARE ANY ISSUES ARISING .
Details
UPC 00850045943264
Quantity: 10 PCs
Size:  1.28'' x 1.28'' x 0.35'' (3,2 cm x 3,2 cm x 9 mm)
Free Bonus: 10 PCs Stickers
Video