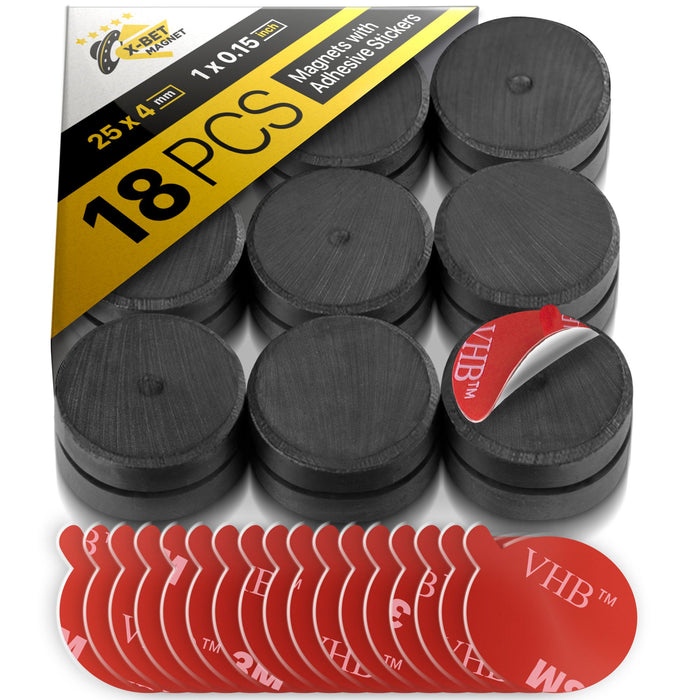 18pcs Circle Ceramic Magnets with Adhesive Backing - Disc Magnets with 3m Adhesive Dots - Ferrite Craft&DIY Magnets
Are you looking for strong adhesive magnets?
Got tired of weak magnets and fakes? No worries - strong magnets with adhesive backing will solve your problem!
MORE
The set includes 18 PCs ceramic magnets and 18 PCs stickers. This set of circle magnets is a great combination of strong ceramic magnets and adhesive backing stickers. You can combine these two items to make one ceramic magnet with adhesive backing or choose to use a disc magnet and sticker separately.
"Stick on" magnets are better choice than neodymium magnets for those, who prefer creativity.
The actual size of disc magnet is 12/17" x 3/15". Use small magnets for all your home, school, office, kitchen needs.
You can attach strong adhesive magnets not only to metal surfaces, but also to any surfaces you want. X-bet MAGNET adhesive magnets will not become weaker over time.
Recommended application:
Stick an adhesive sticker to the black magnet. First, make sure you clean the surface you wish to adhere the disc magnet, and then apply the magnet to it. 
Circle craft magnets are the perfect choice for those, who like experiments with the imagination. Just expand your boundaries and use craft magnets round in various fields: craft magnets with adhesive, as office magnets, fridge magnets, school magnets, ferrite magnets, DIY magnets, and more. Spend time with your children, relatives and friends to personalize your own home space, and office space. Use your spare time and find common hobbies with kids by using X-bet MAGNET flat magnets.   
| | | | |
| --- | --- | --- | --- |
| Industrial& Scientific Projects | Home Improvement | Storage Organization  | Art & Crafts, DIY |
Do not lose your time and create your own home space whiteboard magnets.
X-bet MAGNET IS A REGISTERED TRADEMARK - CHOOSE EXCELLENT ROUND FERRITE MAGNETS AND AVOID CHEAP FAKES!
REST ASSURED IN QUALITY OF THE MAGNETS YOU ARE USING. WE GIVE YOU A 100% GUARANTEE THAT IF ANYTHING IS WRONG - YOU WILL GET YOUR MONEY BACK!
PLEASE, FEEL FREE TO CONTACT US IF YOU HAVE ANY QUESTIONS OR SUGGESTIONS RELATED TO THIS PRODUCT.
Details
Quantity: 18 PCs
Size: 12/17" x 3/15" (1,8 cm x 5 mm)
Magnetic Force: 4200 Gauss
UPC 00850045943851