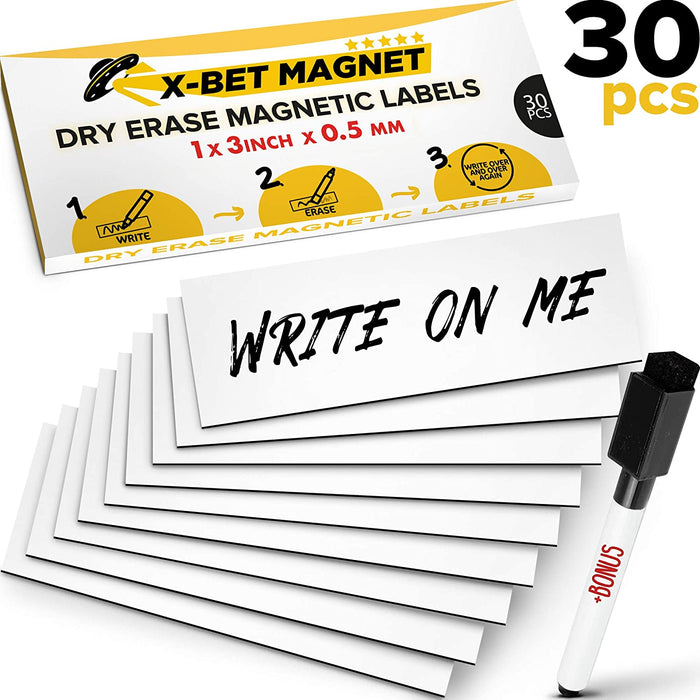 Dry Erase Magnetic Stickers for Whiteboards - Sticky Labels and Stickers - Magnetic Name Tags - 30 PCs
Do you strive to learn a new language and would like to label things in a foreign language around your house?

Are you a teacher or an office worker who needs to create charts and schedules on a whiteboard?
Would you like to organize your home space and label your containers?
MORE
We've got you covered with X-bet MAGNET Dry Erase Magnetic Labels and Stickers.
The set includes 30 PCs Writable Magnetic Tape Labels.
Practical Writable Magnetic Tape Dimensions: 1" x 3", Thickness 0.02" (0,5 mm). Magnetic Labels have 255 Gauss of Magnetic Strength.   
Rest assured in the premium quality of X-bet MAGNET Flexible Magnetic Labels which comply with ISO 9001 standards.
High - quality White Sticky labels and stickers for shelving! Write easily on Magnetic Rolls! 

If you wish, you could trim the magnetic strip to a desired size and shape: make your own dots, squares, rectangles, stickers – shape whatever you want!
Use Black Dry Erase Marker to write on the magnetic tape – it is included in a set!
Recommended application:
Use dry erase marker to write on the magnetic stickers.
To reuse magnetic strip: 1) wipe off you have written on the strip; 2) write on the tape again and use it as many times you need – thanks to the rewritable and reusable feature. Dry Erase Magnetic Strips will not leave any stains on the white glossy surface.

Use Strong Blank Dry Erase Labels in various fields:  Kitchen, Office, Education, School, Hobby, etc. Dry Erase Writable Labels are ideal for kids DIY projects since they are so easy to use and erase!
Reusable and Rewritable stickers help you remember important things – use it for labeling storage shelves,  flexible writable stickers, decorative magnets, stockroom shelf labels, signs and pics on refrigerator, labeling cabinets, crafts, writing messages or notes, menu boards, magnetic tape strips,  teaching supplies for the classroom, magnet labels for the refrigerator,  fun teaching tool, planning boards, and more.

Help your children learn a foreign language at home. Time for homeschooling! Make stickers on your home metal surfaces and write foreign words. Learn with kids in a playful way.

As a FREE BONUS to this product – Black Dry Erase Marker in the set!
X-bet MAGNET IS A REGISTERED TRADEMARK – CHOOSE QUALITY STICKY DRY ERASE MAGNETIC TAPE AND AVOID CHEAP FAKES.
REST ASSURED IN QUALITY OF THE WRITE ON MAGNETIC TAPE STICKERS YOU ARE USING. WE GIVE YOU A 100% GUARANTEE THAT IF ANYTHING IS WRONG – YOU WILL GET YOUR MONEY BACK!
PLEASE, FEEL FREE TO CONTACT US IF YOU HAVE ANY QUESTIONS OR SUGGESTIONS RELATED TO THIS PRODUCT.
Details
Quantity: 30 PCs 
Size:  1" x 3", Thickness 0.02" (0,5 mm)
Magnetic Force: 255 Gauss
UPC 00850045943769