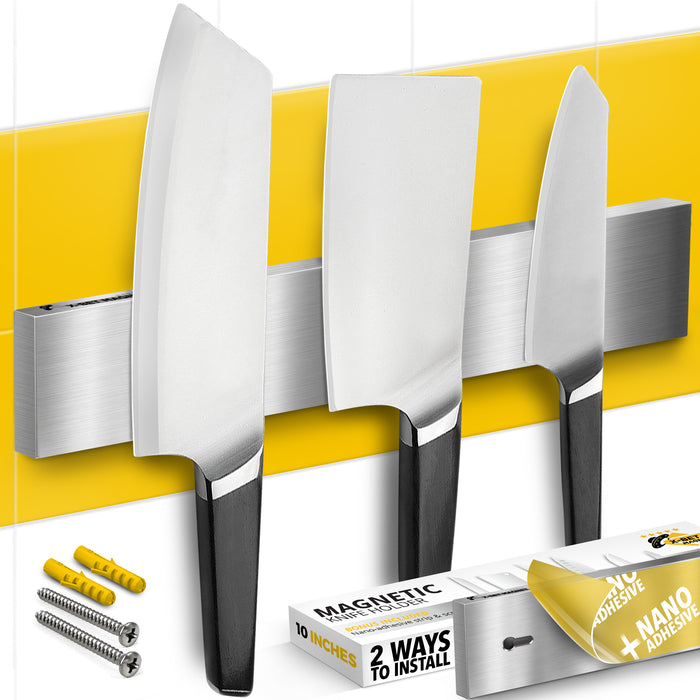 Knife Magnetic Strip 10" with Adhesive – Magnetic Knife Holder for Wall no Screws - Tool Holder and Kitchen Organizer
Strong and durable Magnetic Knife Holder is the best solution for organising your utensils.
MORE
Magnetic knife holder that can be even applied without drilling is extremely multifunctional home tool applicable to various surfaces.
Besides for the Magnetic Knife Block with engraving you also receive EXTRA FREE BONUS : mounting screws and waterproof and reusable strong-holding nano tape with adhesive backing.

Magnetic Holder has practical dimensions : 9.8" (25cm) x 1.9" (5cm) x 0.6" (1,5cm). 
All X-bet MAGNET products as well as Magnetic Knife Block are made of non- toxic and eco-friendly materials with strict abidance to the international standards. Moreover, this Knife Block with Multi Use as Kitchen Utensil Holder and Organiser has high level resistance to external affects and isn't exposed to corrosion, oxidation and loosening of magnetic power within time.
Due to the FREE BONUS included you may choose more convenient for you way of installation:
Nano tape appliance. All that has to be done in order to install the holder is to peel and stick nano tape to the magnetic holder itself and apply it on the surface it was intended to be installed on. Sticky nano tape won't cause any damage, nor leave any marks. Can be applied to  various surfaces including: glass, plastic, PVC, smooth wood,  metal, tiles, etc.
Mounting screws appliance. By using the included as a FREE BONUS mounting screws you ensure the holder staying in place for a long period of time, that it will be taken off only upon your intention.  
These are widely used as magnetic organiser for office, home, kitchen and garage. This knife magnetic holder can be adopted as magnetic tool holder and organiser, magnetic knife holder for wall, refrigerator tool organiser, kitchen utensil holder, magnetic key holder for wall, magnetic tool for garage storage, tool holder for locker and magnetic organiser for kitchen. 

Simplify your life and reduce cleaning time as you utensils always would stay in place and within reach. 
X-bet MAGNET IS REGISTERED TRADEMARK AND RELIABLE BRAND. WE RECOMMEND YOU TO AVOID CHEAP AND LOW QUALITY FAKES. STAY ASSURED IN THE MATERIALS THESE KNIFE HOLDERS MADE OF SINCE THEY ARE MANUFACTURED UNDER ALL THE INTERNATIONAL STANDARDS OF QUALITY. WE WILL PROVIDE YOU WITH A 100%  REFUND IF ANY ISSUES ARISING WITH THE PRODUCT!
IF YOU HAVE ANY QUESTIONS OR SUGGESTIONS RELATED TO THIS PRODUCT, PLEASE, DON`T HESITATE TO CONTACT US .
Details
UPC 00850045943271
Size: 9.8" (25cm) x 1.9" (5cm) x 0.6" (1,5cm) 
FREE BONUS: adhesive nano tape and screws